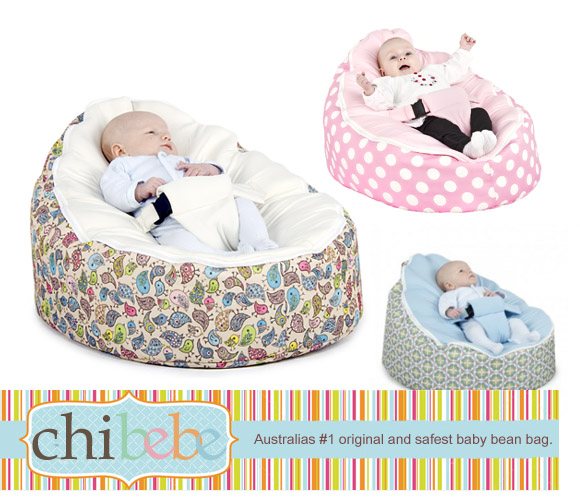 Having a safe comfy place for baby to lie down on is essential when they're little. That's why Chibebe have a range of super cute baby bean bags on offer!
Each Baby Bean Bag has a secure harness to prevent baby from sliding down or sideways while on the bean bag, they have an easy to clean design and it's easy to carry around and take with you. The special shape of the bean bag also helps to prevent reflux (I know we had to stick a couple of phone books under our mattresses to help with this!).
I love the different kinds of prints you can get with your baby bean bag, Urban Chippy is my favourite but there's also the Statement Collection, Retro Circles, Green Polka and Pink Polka.
To browse their bean bag range, and check out some other accessories visit Chibebe today!
www.chibebe.com.au
Remember! Like any kind of chair or sleep aide, I would recommend that you never leave your baby unattended in a baby bean bag – especially when they start to roll and try to sit up on their own. Chibebe have been successfully tested their bean bags for safety however proper use of the bean bag should always be practised