I'm very conscious about what products I use on my kids (and myself!). Often there are so many ingredients in moisturisers, balms, soaps and creams – things you can't even begin to pronounce, let alone know how it will react on your skin. So when Four Cow Farm got in touch with me a few weeks ago, I was more than happy to test out a few samples they've sent my way.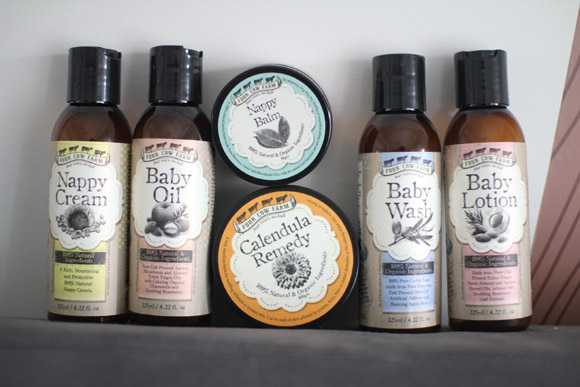 Four Cow Farm is based in South-East Queensland and is made up of a Mother, Grandmother and former Midwife – who wanted to make baby creams and balms made ONLY from pure and natural ingredients and nothing else.
At Four Cow Farm, our creams, balms and lotions are made from the finest natural ingredients available and we choose the safest natural food-grade preservatives and emulsifers for all our products. So when you open a jar or bottle from Four Cow Farm, what you see is what you get – the colours, textures and fragrances come from our wonderful ingredients themselves, and nothing else.
Doesn't that sound great? Well, I'm happy to report that it feels great too
Because each of the products are made from 100% natural & organic ingredients, I feel like it's working with our skin, rather than against it.
The Four Cow Farm Baby Lotion is described as "an exquisitely smooth and soothing lotion made from Pure Cold Pressed Extra Virgin Sweet Almond and Apricot Kernel Oils, infused with Soothing Rosemary Leaf Extract". It glides onto baby's skin and leaves it feeling smooth and soft, and smelling great! (Not like other brands that often make your skin smell like a factory…).
Four Cow Farm Nappy Balm is beautifully rich & full of soothing goodness. It's a 100% natural balm made from Beeswax and Extra Virgin Cold Pressed Castor and Macadamia Oils. It reminds me alot of a super lip balm for chapped lips – so the Nappy Balm is one that you'd keep around for little bottoms that are prone to nappy rash.
The Four Cow Farm Nappy Cream is a lovely light and gentle barrier cream for little bottoms. I found this to be a great every now and then nappy cream (where the Nappy Balm is for already-red bottoms, this one is good cream to start with to prevent red bottoms) to keep in your nappy bag. Again, it leaves the skin so soft and is 100% Natural.
The Four Cow Farm Baby Wash was a delight to use on my kids – it's a 100% Pure Castile Soap Baby Wash is made from Premium Cold Pressed Extra Virgin Olive Oil which made my husband ask me why I brought Olive Oil into the bathroom, lol. We loved it though – both kids came out of the bath with extra smooth and soft skin.
Last but not least, the Four Cow Farm Calendula Remedy which is my favourite out of the range. Can be used on skin affected by eczema, hives, bites or contact dermatitis or for calming minor cuts, scrapes or bruises. With known anti-septic and anti-inflammatory properties, Calendula has been used for centuries as an excellent soother for a variety of skin irritations.

Please mum, no more pictures….
My daughter often has scratches and bumps from who-knows-where, so the Calendula Remedy was perfect for her. It's made with 80% organic calendula-infused olive oil, with the added beneficial properties of vitamin E and organic Roman Chamomile. It's buttery soft goodness is so nice to rub onto the skin, I'd definately want to use this over any chemical-laden product!
They also have Baby Oil, which I didn't try out but has ingredients like Pure Cold Pressed Apricot, Macadamia and Almond Cold Pressed Extra Virgin Oils with Calming Organic Chamomile and Soothing Rosemary. It would be the ultimate soothing moisturiser or massage oil for babies, all natural and really great on the skin.
I'm very happy to recommend Four Cow Farm to you all today and ask you to visit their website which has more information about their products & values. You can also buy all the products online via their online store, or find a stockist near you.
Four Cow Farm have done an amazing job thinking about the ingredients that go into every day products like baby lotions, wash and balms. As parents, you'll spend at least a year using all of these products, multiple times a day, choosing 100% natural not only benefits your family, it will benefit the environment in the long run.
DON'T MISS THIS!
Four Cow Farm have generously set up a discount code for Australian Baby Blog readers. Just use the coupon code ABB2011 to receive a 10% discount when you purchase any product via their online store. Get in before the end of October – you won't be disappointed!
Four Cow Farm
www.fourcowfarm.com
Online Store au.fourcowfarm.com
Thank you Four Cow Farm for letting me review your products this week!