Halloween this year falls on a Monday but you can still have some holiday fun at your local Toys R Us!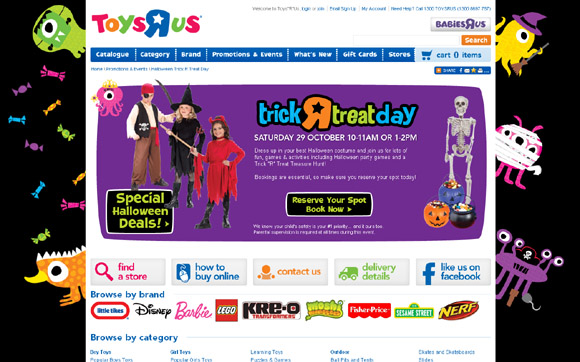 Toys R Us are hosting Trick "R" Treat Day on Saturday 29th October (either 10-11am or 1-2pm) where you can dress up your kids in your best Halloween costume and join in on games and activities. There's even a treasure hunt but you've got to reserve your spot asap to make sure you're included in on the fun.
Toys R Us also have Halloween decorations available if you want to decorate your front door this year. We love Halloween at our house (it's also close to a couple of birthdays, so it's a great theme to go along with!) so I've got a few tombstones and have carved a couple of jack-o-lanterns for our front porch.
For more details about Trick "R" Treat Day, please visit the Toys R Us website. And have a great Halloween!