Finding healthy food for kids is easy. Finding healthy food for kids that the LIKE is hard.
In a perfect world, all children would love their fruit and always ask for more water with their steamed salmon and vegetables and then insist on finishing their plate without even being asked to. After soccer, they would rush to their gym bag and pull out their carrot sticks to share with their friends.
But as a parent, you know that's never the norm! Kids want flavour, they want to taste their food and we want the food to still be as healthy as possible.
I was fortunate to taste test some of the kids snacks from Organix, a great range of healthy kids snacks that is now available in Australia.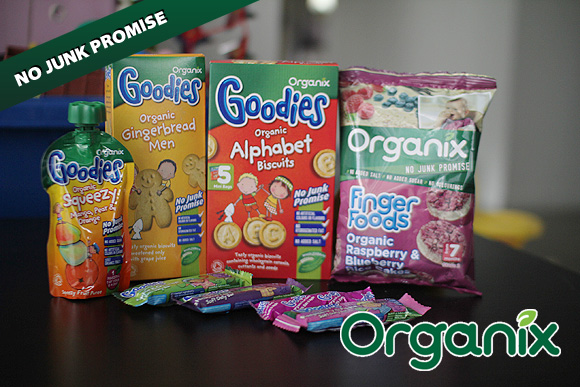 What I love about Organix the most, is their 'No Junk Promise'.
Our three pillars of SAFE, PURE and NUTRITIOUS is our promise to you that we will only give you the best food your baby deserves…
And you know what? You can taste it and it's all good!
The first Organix snack that I had to try was the super cute Organic Gingerbread Men cookies. Sweetened only with grape juice, they are authentic in every way, using real ingredients and cuts out alot of the unnecessary sugars that the kids don't need. Perfect for the Christmas table this year!
Next up were the Organic Soft Oaty Bars – Apple & Organic, Blackcurrant and Raspberry & Apple. The kids didn't seem to like it much (they are fussy!) but I finished them myself and would like to the kids to try it again when school starts up next year. They'd be great for lunchboxes and contain no added sugar, no preservatives and are wholegrain. What more can you ask for as a parent?
The Organic Alphabet Biscuits went down well – they were tasty and small enough for a snack and perfect for a 4 year old who is all about letters lately!
Organix Squeezies were my daughter's favourite – each Organix Squeezy is a blend of organic fruit pur­ee in a handy pouch  — and counts as one of your daily fruit servings. We tried the organic Mango, Pear and Peach squeezy and she gobbled that up in no time! Having snuck in a taste myself, I can see why – full of flavour and it tastes like you're getting a treat
Last but not least were the Finger Foods range – we popped open the Organic Raspberry & Blueberry Rice Cakes and Organic Apple Rice Cakes one afternoon and they're definate winners!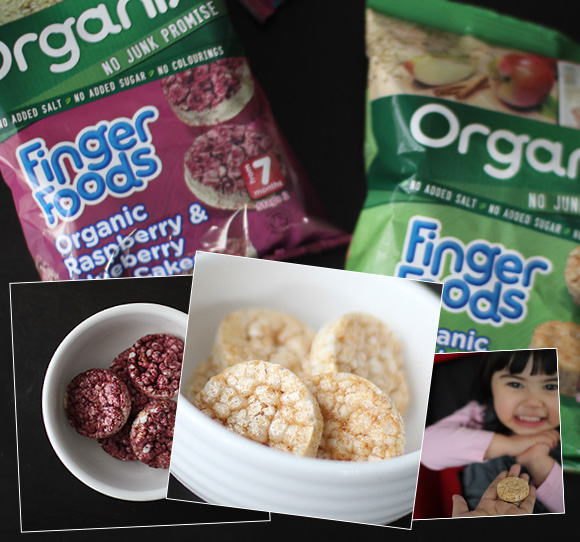 Suitable for babies from 7 months old, these organic Rice Cakes fit straight into little hands and were my favourite out of the range. The gorgeous colour of the Organic Raspberry & Blueberry Rice Cakes caught my eye as soon as we opened the packet – and then the taste got me! The Organic Apple Rice Cakes have a hint of cinamon are were a hit with the kids because they, again, tasted like a treat.
Organix Kids Snacks would be a welcomed addition to your pantry or snack drawer. With every product in the range, you can be assured that someone at Organix has given thought to what is going into their food and in turn into your kids tummies.
Reading my review back, I've mentioned 'taste' alot to describe the products – and that's what kids want. Let us mums and dads read the labels and check out the ingredients, but in the end if it doesn't taste great then it won't be eaten. Our Organix products were gone over 2 days and that's a review you can't ignore!
For more information, please give Organic Traders a call on (02) 8399 0122 and they will find your nearest stockist.
You can also check out the Organix UK site for more info!
www.organix.com