Being a mum of two kids, I've gone through alot of baby wipes while their bottoms were in nappies. And having a daughter with Autism, who is still in nappies, I'm still seeking out the best kind of wipes that will see us through any kind of occasion. (Yes, that's my way of saying it gets MESSY around here!).
As a new mum, I probably went through 4 or 5 different brands of baby wipes before settling on Huggies. Alot of the baby wipes out there either irritate the skin or break apart on 'impact', they're too thin or it takes more than 1 wipe to get the job done. Huggies is one of the best brand name baby wipes on the market – a name that you can trust to put out products that stand the test of time.
I was recently contacted to review Huggies Baby Wipes and being a fan already, it was an easy decision because I would make this recommendation to any mum or dad looking for the best for their baby.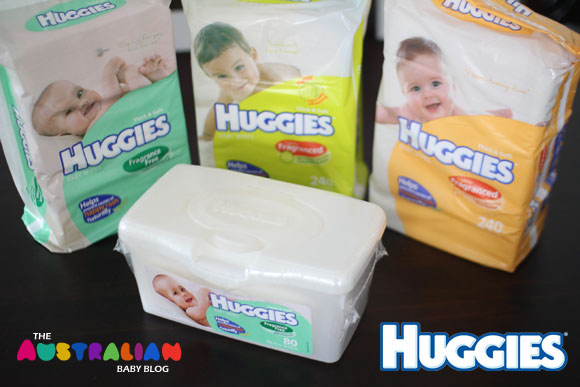 What I love about Huggles Baby Wipes is that they have a lovely thick and soft texture that always gets more off with one wipe, leaving skin clean and healthy. The Cucumber & Aloe and Shea Butter baby wipes SMELL SO GOOD (seriously), but the Fragrance Free type is available also. (I didn't realise but the Fragrance Free variety is clinically proven safe for newborn and sensitive skin).
The baby wipes are pH balanced and include no soap or alcohol, which means they are hypoallergenic and great to use on sensitive skin. And they're also enriched with ingredients such as Aloe Vera and Vitamin E which also leaves your own skin moist and refreshed.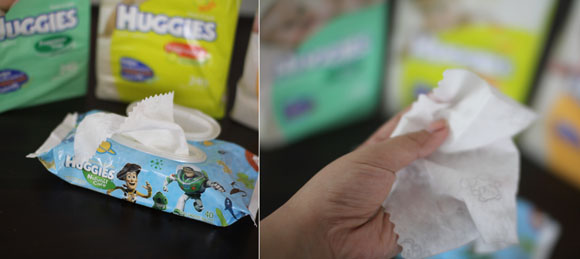 Huggies have also designed the Pop-Up tub so that it can be used with one-hand – which is perfect for when you're changing baby without any extra hands around. We love our Pop-Up tub and use over and over again by getting the baby wipe refill packs.
Huggies Baby Wipes are an important part of our nappy change routine and together with this review, I am proud to announce our very first giveaway for 2012.
One lucky reader will win a Jumbo Cucumber and Aloe 240 pack of Huggies Wipes – perfect for your next nappy change!
To enter, leave a comment below and tell me where's the worst/funniest place you've had to change a nappy before
I'll go first – I've had to change a nappy in an underground shopping car park in the middle of a hot hot summer, in the boot of our car because we didn't know the area and this was an emergency!
The competition closes on Monday 16th January (midnight). The winner will be drawn at random on Tuesday 17th and will be notified via email.
For more information about Huggies Baby Wipes, please visit the website
www.huggies.com.au/nappies/wipes
Terms and Conditions
Competition is open to Australian residents only and winner must have an Australian postal address.
Winner must reply to accept prize within 5 days of notification or competition will be redrawn.
The winner will be announced on my Facebook page after the 17th January 2012.
As part of this review, I was sent some Huggies Baby Wipes. My opinions remain strictly my own.