With the school holidays once again around the corner, it's time to take note of easy and fun activities to keep our kids busy! Whether it's baking or crafting or gardening, plan ahead and pick one or two projects you've never done before and mark them on the calendar.
I've picked 7 easy projects for kids of all ages – 7 projects that I've never done before and may just attempt these holidays too!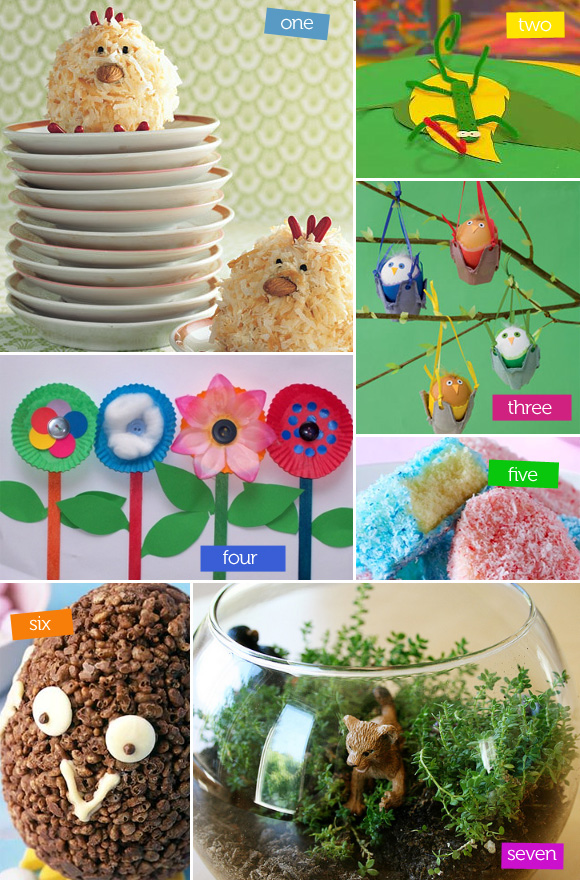 one. Spring Chick Cupcakes – a cute treat for Easter, they're simple to make and oh so lovely!
two. Lolly Stick Lizard – fans of the tv show Mister Maker might recognise this one. After you've had an iceblock or icecream, keep the stick and turn it into a lizard!
three. Rock-a-bye Birdies – a really pretty way to decorate the table at Easter – find a suitable tree branch on your walk, and stick it in some sand in a vase. The little birdies will love their new home!
four. Row of Paper Flowers – if you've got some spare cupcake cases in the pantry and some paddle pop sticks, you can make them into some pretty cute flowers
five. Easter Lamingtons – super easy to make, and super easy to eat! Yum yum
six. Chocolate Krispie chick – why not make your own Easter eggs? We'll be doing this next week, you can find the easter egg moulds at Kmart, The Reject Shop, Spotlight and other homewares stores in Australia for around $4.
seven. Make a Kid-Friendly Terrarium – this is definately on our to-do list! Make a beautiful terrarium as a present or as a new dining table centre piece. The kids can choose which of their tiny toys will live there and it will give them an opportunity to take care of something that is pretty low maintenance (in comparison to a new pet!).