There's so much talk of rain lately, that we're just used to it by now. (Hopefully anyway!).
I've been told the best way to cope is to just get on with your day if possible. Bring out your umbrellas, slip on your gumboots and go for that walk if the rain is not too heavy. I'll admit that in past years, we've enjoyed the sunshine more than the rain, so we're a bit underprepared for the extended rainy season and I'm scouring the internet for some wet weather gear for kids that is affordable and durable.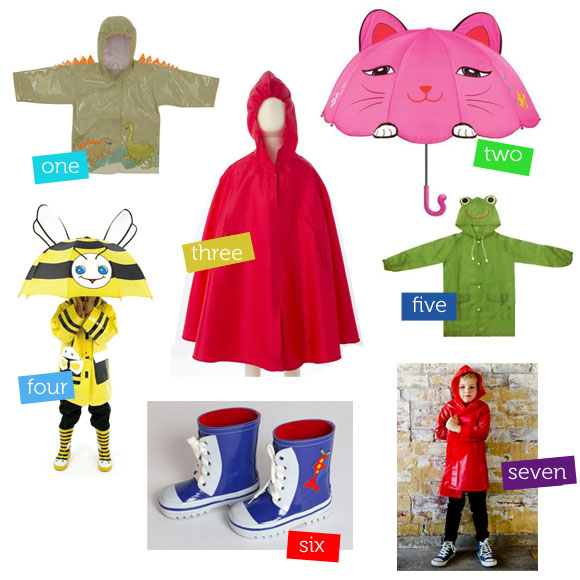 one. Kidorable Dinosaur Raincoat $55.00
It's made 100 percent PVC and lined with polyester for comfort so it's worth a little bit more than other raincoats.
two. Kidorable Lucky Cat Umbrella $ 22.95
A gorgeous, kid sized umbrella for rainy walks to preschool or the shops
three. Hey Baby! Rain Cape Red $34.00
If you're having a struggle putting little arms into a traditional raincoat, consider a rain cape!
four. Kidorable Honeybee Winter and Rain Wear from $14.95
Deck them out, head to toe in Honeybee Winter & Rain Wear by Kidorable! Bzzzzzzz
five. Funny Raincoat – Frog Was $23.65 Now $7.10
Grab a bargain! I love a bit of colour and this green frog rain coat is really fun
six. Rosie Roo Boys Blue Lace Up Wellies $35.00
Super fun lace up wellingtons (rainboots) – made from natural rubber, soft cotton lining & insole for added comfort.
seven. Ouch Girls/Boys Raincoat (Red) $29.95
I love a bright red raincoat – especially in crowds or at the park, you can spot your kid from a mile away!
Stay dry everyone!