I love bright & colourful patterns – especially for kids clothes. You only need a little to make it brighten up your day, and the cuter the pattern the better!
Bink Kids is a brand new online store run by two Melbourne mums, Karina and Nadine. Their collection of colourful and fun clothing was inspired from Nadine's children's Dutch Oma (Grandma) who always sent them lots of bright and patterned clothes. So it made alot of sense for Nadine and Karina to create their own online store, selling the clothes and accessories they've come to love
Browsing through the store, you'll find alot of brands like DUNS Sweden, Maxomorra and Eggkids – and everything is so fun, you'll have a hard time choosing your favourite piece to order! Below are just a few of my favourite Bink Kids onesies, tshirts and dresses found instore today –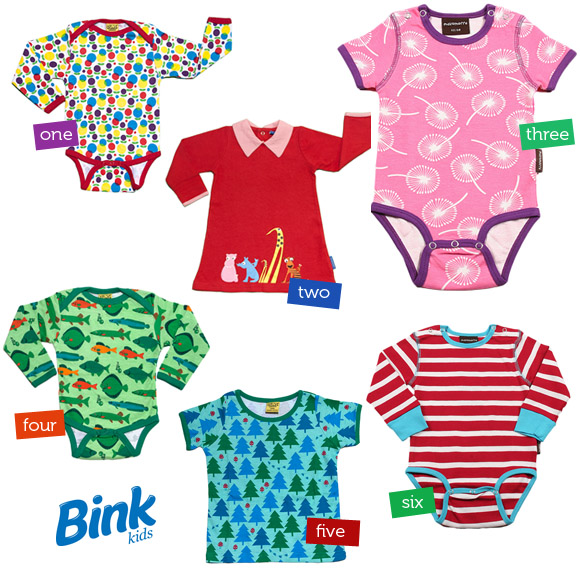 one. DUNS Sweden – Onesie Dotty Flowers – $36.95
two. EGGKIDS – Dress Safari Animals – $37.00
three. Maxomorra – Onesie Dandelion Pink – $19.95
four. DUNS Sweden – Onesie Green Fish – $36.95
five. DUNS Sweden – Tshirt Trees – $36.95
six. Maxomorra – Onesie Stripes Red and White – $22.95
The DUNS Sweden and Maxomorra clothes featured above are 100% organic cotton, which means you know you're getting quality and environmentally friendly products. DUNS Sweden also uses non-toxic dyes and ensures that all garments are made in fair trade.
With funky & environmentally friendly clothes for boys and girls available, Bink Kids is a welcome addition to the online shopping world! I love that there is another avenue for quality European kids clothing to come back to when you're looking for something special.
Whether you're just after a unique tshirt or a cool onesie, a treat for your own kids or a present for another – you'll want to keep Bink Kids bookmarked
To check out more of the range, please visit Bink Kids today!
www.binkkids.com.au