A huge part of a child's development is play – getting them to use their imagination, nurturing their creative skills and giving them the opportunity to express themselves in a fun way. When I was a child, my sister and I would spend hours playing in our tent and cubby houses (made from chairs & blankets!) and alot of great memories of crazy make believe stories. Now that I have kids myself, having a play tent has been one of the best additions to our toy box.
Not only do they have fun in a play tent, I'm also having fun with them! Entropy Toys has a beautiful range of play tents and play houses for kids available. While they are a little pricier than I remember, a good play tent will last you through a few kids and countless fun afternoons.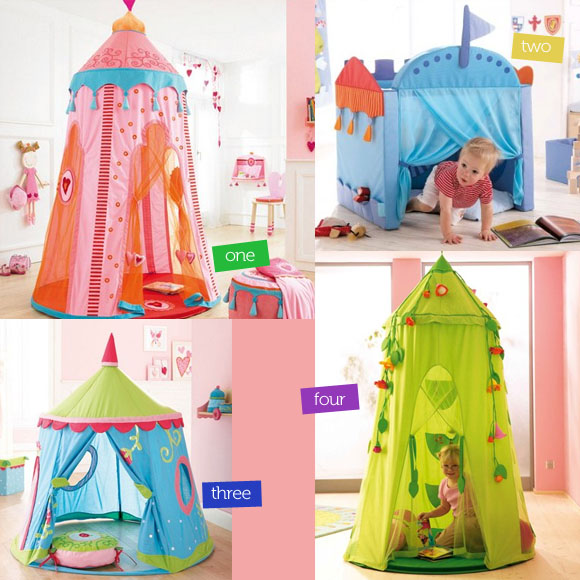 one. Haba – Play Tent Marrakesh $379.00
More of a room tent, this amazing play tent is by Haba and follows a fun Marrakesh theme that will bring colour and fun to any room. This play house is ceiling mounted and big enough to fit alot of happy kids inside!
two. Haba – Play House Dreamford Castle $289.00
This Haba play house is a really cool one – when it's set up, it looks like a little castle complete with flags and a curtain door. But once you're all done, it unfolds into a soft bed for a lovely nap!
three. Haba – Play Tent Caro-Lini $219.00
Another beautiful Haba play tent – this is a pop up freestanding play tent that both boys and girls will love to lounge around in all afternoon.
four. Haba – Play Tent Blossom Sky $399.00
This Blossom Sky play tent is also ceiling mounted and features internal pockets for kids to store their treasures. I love that this play house has cascading flowers together with the garden green. The padded floor mat would be a great place to take a nap, host a tea party or gossip with friends.
There's more great play houses, tents and toys at Entropy Toy's online store – make sure you take a look at their toy specials, and take advantage of their FREE delivery for orders over $100
www.entropy.com.au