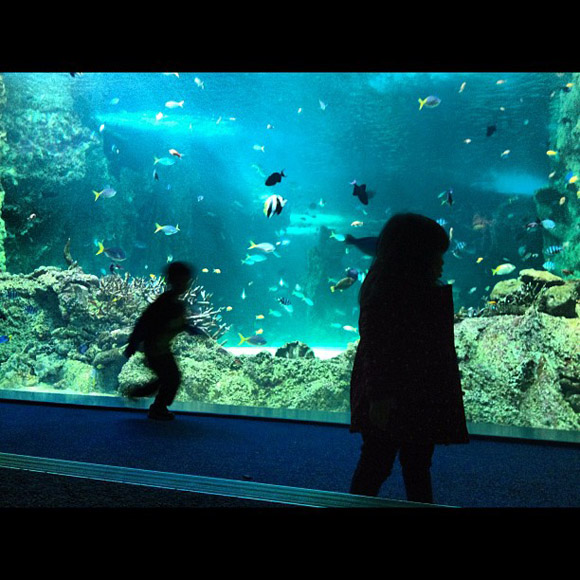 Monday is our family day in our household (with my husband working weekends) so today we took ourselves off to Sydney Aquarium as a belated birthday treat for our daughter, Jovie.
The Aquarium has always been a place to go when family and friends visit Sydney, but it's also a great opportunity for kids to learn something new and see some cool things. Having been about a billion times ourselves, we were pleasantly surprised to see a few new exhibits and saw first hand the upgrades they've been doing to the Aquarium in recent months/years.
SAWS AND CLAWS is a new creature feature – with the amazing Japanese Spider Crab being my favourite of the day. It's HUGE! The Shark Tank is still a crowd favourite, especially at feeding time, the tunnel was packed with big kids & little kids watching all the action.
The Little Penguins in the Southern Oceans section were busy swimming; and the Eagle Rays were so cool to see 'fly' by!
Sydney Aquarium have a special $50 family deal ticket if you visit after 4pm on week days, or after 6pm on weekends when you book via their website. They are open until 8pm each day so there's plenty of time to see everything at the aquarium. There's also combination tickets and Merlin Annual passes to purchase via the website, and I'd recommend checking it out if you're looking to save a little.
Sydney Aquarium is located on the city side of Darling Harbour, just next to the Monorail station. There's plenty of parking stations around the area, but we like to park at the Entertainment Centre and enjoy the walk up through Darling Harbour.
If you haven't been in a while, I'd recommend going to the Aquarium for a fun morning or afternoon with the kids
Sydney Aquarium
www.sydneyaquarium.com.au