It's toy sale season again! Every year, the big department stores hold their mid-year toy sale and there is PLENTY to choose from. This year, most of the stores also offer online shopping which makes it even easier to grab a few bargains.
From Big W, to Kmart, to Myer and Target, the range of toys on sale is astonishing and can be overwhelming. To stop yourself from buying too much, or missing out on deals – spending an hour (or two, sometimes) with all the catalogues infront of you is a great starting point. If you're feeling brave, hand your child a pen and let them circle what they want – but give them a limit and try not to make promises! Otherwise, put your Santa hat on and choose the toys that you think they would get the most joy out of, for the most amount of time. Then compare prices between the stores.
Having a list ready will help you once you hit the stores – there is no umming and ahhing about whether to get something, and then missing out because you couldn't decide. It also helps those limit those impulse buys, and if you've brought along the kids, a list is a great way to remind them to stay within the wish list.
I've had a look at the catalogues available online for Kmart, Target, Big W and Myer and have picked a few affordable toys that my kids would love.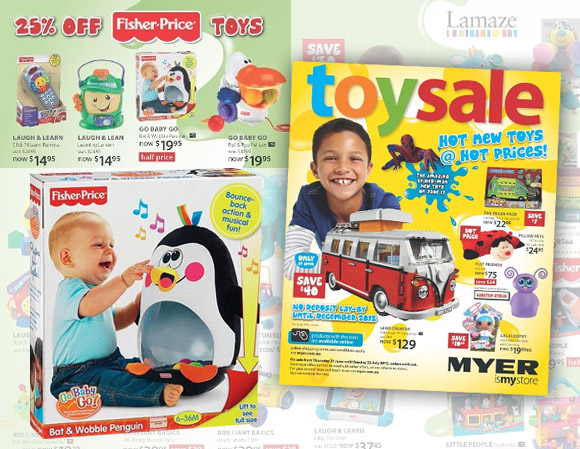 From Myer, the Fisher-Price Go Baby Go Bat & Wobble Penguin for $19.95
Myer's Toy Sale is on now until Sunday 22 July 2012.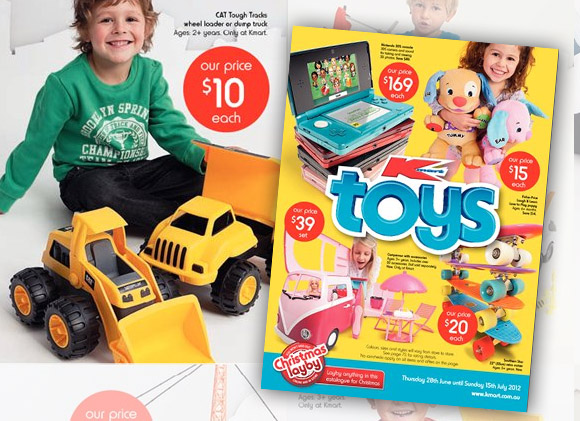 From Kmart, CAT Tough Trade wheel loader or dump truck for $10.00
Kmart's Toy Sale starts Thursday June 28 2012.

From Big W, a Pillow Pet for $8.48 (Save $6.38!)
Big W's Giant Toy Spectacular is online now! In stores Thursday June 28 2012.

And from Target, Jenga for $12.00
Target's Toy Sale is on now until Wednesday 11 July 2012.
Have fun at the toy sales!
——————————————————————————————————————————————
On a side note, a big thank you for your support via emails and Facebook, and continued visits to the blog this past week. My daughter Jovie was diagnosed with Rett Syndrome a couple of weeks ago so I had taken a step back from blogging here to let this new diagnosis settle.
Rett Syndrome is a neurodevelopmental disorder that is almost exclusively found in girls. It is caused by mutations on the X chromosome on a gene called MECP2. Rett syndrome causes problems in brain function that are responsible for cognitive, sensory, emotional, motor and autonomic function. These can include learning, speech, sensory sensations, mood, movement, breathing, cardiac function, and even chewing, swallowing, and digestion.
You can find out more about Rett Syndrome via http://www.rettsyndrome.org/content/blogcategory/17/1105/ or visit my blog for my personal journey with it.
Blogging here at The Australian Baby Blog should return to normal from today