Wall decals brighten up any room of the house – especially the kid's bedrooms. The trend of using wall decals to decorate empty walls is on the rise, and the quality and the range of wall decals available to us in Australia is growing.
Leafy Dreams Nursery Decals stock a huge range of amazing wall decals that are perfect for kid's rooms. From fabric wall decals (that are nice to touch!), to dinosaur wall decals and owl decals – they've got something for every home. What I love about their wall decals though, is that alot of them are BIG – they come with alot of characters and objects, which means you can fill an entire wall with crazy critters and make it a focal point of the room.
So on with my favourite selection of wall decals from their website –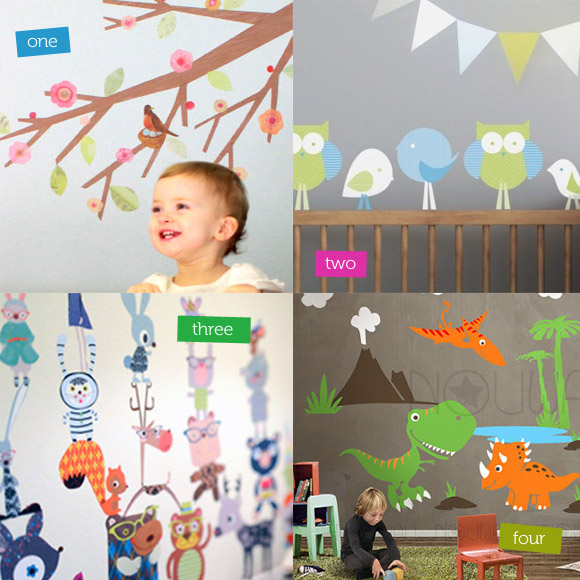 one. Pink Blossoms Branch and Bird Wall Decal-Wall Sticker $77.00
Cute as a button – a simple tree branch is such a pretty way to add colour to a bare wall
two. Birds and Owls Wall Decal-Wall Sticker $70.00
7 little birds, all in a row (or however you want to position them, really!) – I love the Owl & Bird theme for the nursery
three. Fantasy Forest Critters Wall Decal-Wall Sticker $139.00
If you're looking for something different, these forest critters make for perfect company in a kids room. 24 fabric wall decal friends in this pack.
four. Dinosaur Land Wall Decal-Wall Sticker $215.00
This would look amazing on any dino-lover's wall. If you're decorating a new room, or updating your old one – this would be a great decal to use as an overall theme throughout the room.
Leafy Dreams Nursery Decals
www.leafydreamsnurserydecals.com.au