Fertile Mind has always been a 'go to' brand when it comes to maternity & breastfeeding clothing & accessories. I know I had a Belly Belt always on hand for both my pregnancies, and it's a brand that I regularly recommend to my pregnant friends as a product to try.
The Fertile Mind online store not only stocks the famous Belly Belt, but also has a range of fantastic maternity wear, breastfeeding dresses & tops, baby care products and baby slings.
Two gorgeous breastfeeding tops I've found on the Fertile Mind website are both functional and stylish – something that all mums will appreciate!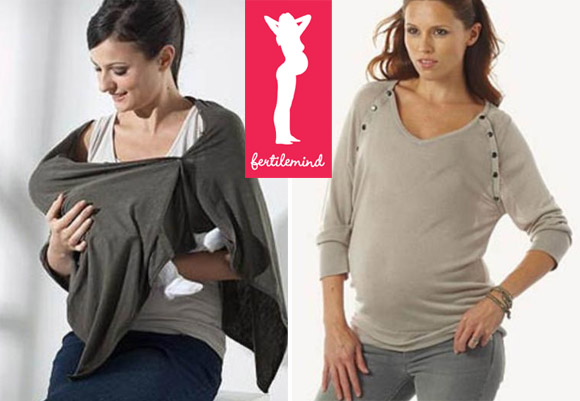 The Mothers en Vogue Bamboo Breastfeeding Poncho ($59.95) can be worn in many different ways – over the shoulder, as a poncho, as a scarf or bolero – you can even use it as a baby wrap. With so many handy uses, this is a value for money purchase that will literally take you from maternity and beyond.
The Rebecca V-neck Maternity-Breastfeeding Jumper ($89.95) is a gorgeous v-neck jumper that is suitable during pregnancy and while you're breastfeeding. Made from a slinky lightweight blend that is cashmere soft, the patent pending popper fastening system makes it a great choice for breastfeeding mums.
I love that both products are modern and useful for mums in every day life. When you choose either maternity wear or breastfeeding tops, you want to make sure they fit into your life so you will actually use them. These breastfeeding tops fit the bill nicely
There's heaps more great breastfeeding tops over at Fertile Mind to choose from – check out their website today.
www.fertilemind.com.au