I was recently searching the internet for party favours and decorations for my son's upcoming 5th birthday and ended up (as always) at Pink Frosting. Having ordered from them before, I knew I would find what I needed at a good price, and I did – but I also bookmarked a whole heap of other party accesssories that would look beautiful at any baby shower. I've steered towards pink today, but I'm sure you'd agree that each of the pieces below are gorgeous and would also look great at a mum's morning tea or even to pretty up your daily kitchen!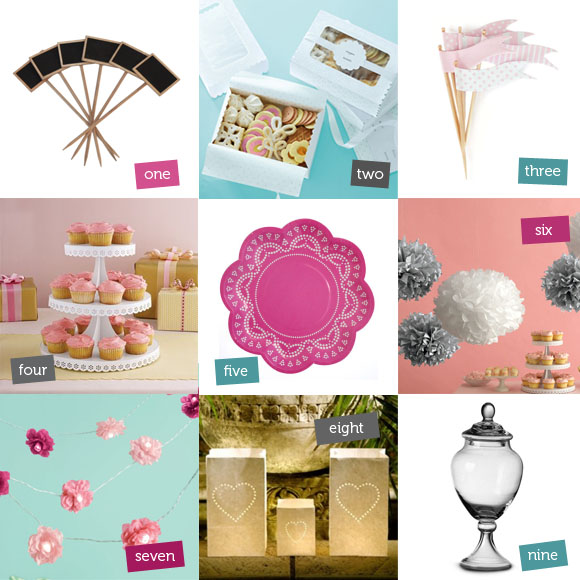 one. Blackboard Stakes (Set of 6) Sale Price: $9.99 (RRP: $15.00)
Great for name places, or labelling each dish on the table
two. Martha Stewart Doily Lace Match Box Favour Kits Sale Price: $4.99 (RRP: $24.50)
I love these as an alternative to plastic take out boxes
three. Marshmallow Pink Cupcake Topper Flags or Food Picks $6.95
A fast and easy way to decorate a cupcake
four. Martha Stewart Doily Lace Cupcake Stand $49.95
I love love this cupcake stand – three tiers comes in handy!
five. Candy Pink Lace Doily Party Plates $7.95
Pretty up your next picnic or party!
six. Martha Stewart Silver and White Pom Poms Set $34.50
I love a good pom pom! I couldn't DIY these properly, so these would be perfect to use
seven. Martha Stewart Pink Lighted Camelia Garland $34.50
A beautiful garland to adorn the walls of your party
eight. Love Heart Luminaria Candle Bags (small or large) $19.95
Light the way to your front door, or use them as a centrepiece
nine. Ava Candy Jar for Lolly Tables $35.00
Not only great for parties, but great for displaying snacks or treats in your kitchen
There's heaps of more great baby shower decorations and accessories at Pink Frosting (aswell as perfect items for birthdays and other celebrations). Check out their website today.
www.pinkfrosting.com.au