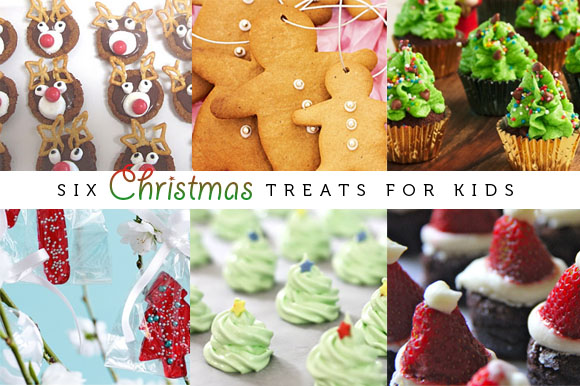 It's that time of year again! The kids will soon be on summer holidays and you'll be stuck for ideas to keep them busy, while trying to prepare everything for Christmas lunch and/or dinner. Somehow it always happens, doesn't it? (Unless that's just me…).
Getting kids into the kitchen is a great way to teach them a new skill, and keep them occupied for an afternoon. Giving them to confidence to create a delicious treat for their friends and family can only be a good thing – so why not start with something easy and fun?
I've found 6 great Christmas treats for kids, that can be made by kids too!
Reindeer Cookies
There are many ways to make Reindeer Cookies, but this is my favourite. Using a few simple ingredients like Butternut Snap Cookies, cooking chocolate and marshmallows – you'll have a super cute Reindeer on your table in no time.
Gingerbread men
Gingerbread are available all year round, but I think they're more special at Christmas
Mini Xmas tree cupcakes
Very simple to make – just add some green food colouring to your icing mix and pipe out the tree on top of any cupcake. Have the kids decorate them as they like.
Christmas toffee
We also like to save toffee for Christmas, it's so pretty once completely and you can use them as tree decoration too. Makes a beautiful Christmas present for school friends.
Christmas Tree Meringues
Another easy peasy (and cheap) recipe, tint your meringue green and decorate with edible stars. I'd love to serve this with some icecream too
Strawberry Santa Hats
Another simple recipe for Christmas – make with or without the brownies underneath. Yum!
I'm a big advocate of spending quality family time together, aswell as not blowing your budget. Choosing a couple of simple recipes to follow before Christmas is a fantastic way to bond with your kids while keeping your costs way under $20.
I'll definately be trying out the Christmas Tree Meringues and the Reindeer Cookies this year! Happy baking!