Just in case this summer brings us more unpredictable and not-fun weather, I thought it would be good to look into things you can do indoors with the kids. I do love a good outdoor tent, but what about an indoor cubby? There are a few great options to look into – including some DIY options for you to try.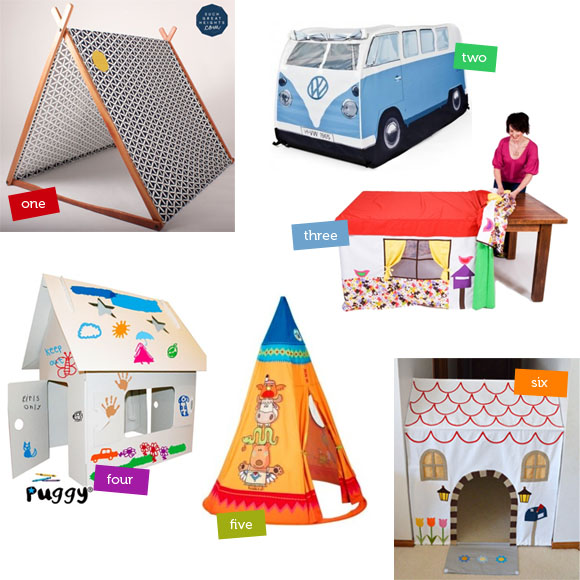 one. Navy Geometric 'Wonder Tent' (Organic Cotton Canvas) $279.00 AUD
A beautifully made tent which you can use indoors and outdoors. I love the print of the cotton canvas, I may just steal it for myself…
two. VW Campervan Combi Tent Blue $149.00
Such a cute tent – UV and waterproof, you can pop this Combi tent up at the beach, backyard or in your living room.
three. My Playhouse Adventures $195 each
The ultimate easy play tent – these playhouses slip right over your dining room table! How cool
four. Puggy House $49.95
Made from natural paperboard, you can decorate your Puggy House and then have a great time playing in it!
five. Haba – Play Tent Teepee $179.00
The free-standing design of the Haba teepee means you can pop this up anywhere in and out of the house. It folds flat when not in use, even better!
six. DIY! House in our Hallway
A fun DIY project maybe? Turn your hallway into a play area by plopping up this easy to make panel.
Here's hoping there is one or two days of indoor fun this summer…