Reminder – 26 Things: November 2011
That's right, another photo project is running so close to our last
26 Things will run throughout November 2011 – you're welcomed to start whenever you can, and then post your completed entry back here on the blog from December 1st.
If you're unfamiliar with 26 Things here's the run down – a list of 26 items/themes is posted on the 1st of the chosen month (this time 1st of November 2011) and it's your job to hunt each of the items/themes down and photograph them in a creative way. I call it the 'photographic scavenger hunt' because that's basically what it is!
You can check out previous 26 Things lists by clicking here, or have a look at the last 26 Things project which was run last November.
There will be an interesting twist to November's 26 Things list – so stay tuned
Feel free to use the banners/buttons below on your blog or website – and I'll see you back here next Tuesday 1st November when the list of 26 Things will be posted!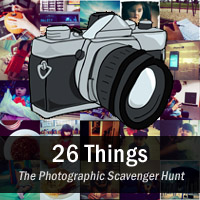 Posted under
26 Things
Share your comment