November has come speeding to an end – with playing 26 Things and the start of the holiday season, December 1st is right around the corner.
We're playing 31 Photos in 31 Days throughout December 2011 so don't forget to get your camera ready and take 1 photo for every day of December.
Each day, come back and post the link to your blog/album and share the day's photo. Alternatively, you can come back at the end of the month and post your December 2011 album link.
Check out previous 31 Photos in 31 Days blog posts by clicking here.
Hope to see your photos soon!
It's time to play 26 Things again!
If you haven't played before, this photographic project is simple – take 1 photo for each of the 26 items in the list that I'll post below. Upload all of your 26 photos to your blog or other photo sharing site, and come back December 1st to share your completed 26 Things entry.
Check out some great completed entries from the last 26 Things project
For 26 Things November 2011 there is a little twist – there's 13 items on the list, but you have to take 2 different photos of each item/theme.
So for example, for 'Weather' you could take a photo of the rain and then another photo of the sunshine!
Here is the list of 13 items – remember to take 2 photos of each:

1. Dark
2. Glow
3. Smile
4. Weather
5. New
6. Round
7. Tangle
8. Up in the air
9. Patterns
10. Tomorrow
11. Eyes
12. A sign
13. A Self Portrait
Ready to get started? Let's go! And I'll see you back here 1st December 2011 to share your completed entry
Remember – there is no membership or sign up
you post the photos to your own blog or image sharing site (like flickr) and then share the link once you're done!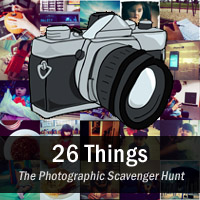 Feel free to ask any questions in the comments box below or let me know if you're working on the list!