« Gluten Free Gourmet Expo 2006 | Main | New Freedom Foods Gluten Free Wraps »
Gluten Free Gourmet Expo 2006 review
I've never been to any sort of Gluten Free show or class or expo, so you can imagine the level of excitment leading up to the Gluten Free Gourmet Expo!
I arrived bright and early, just after 9am, to avoid the crowds I'd heard about from previous Expo's. Walking up to Exhibition Hall 3, there weren't many people there yet which was suprising but later on I was grateful to beat the rush! On the way in, they handed out blue bags filled with some freebies and some information on coaelic disease.
I'm usually great at taking photographs, but excuse the poor quality in these shots. I blame the rush of gluten free food choices! Here are some of the exhibitors this year -
Sydian Natural Food Products www.syndian.com.au The dips were yummy!




LEDA Nutrition
www.ledanutrition.com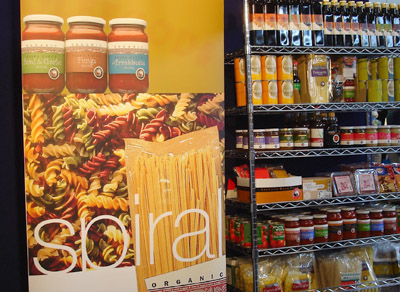 Spiral Foods
www.spiralfoods.com.au




Gourmet Treats From Heaven
www.cookiesandbiscuits.com
I adore the chocolate brownies and raspberry mirror muffins. It's like I never went gluten free!




Jen's Homemade Cookies




Orgran
www.orgran.com
I love their pastas - I stocked them in bulk ;)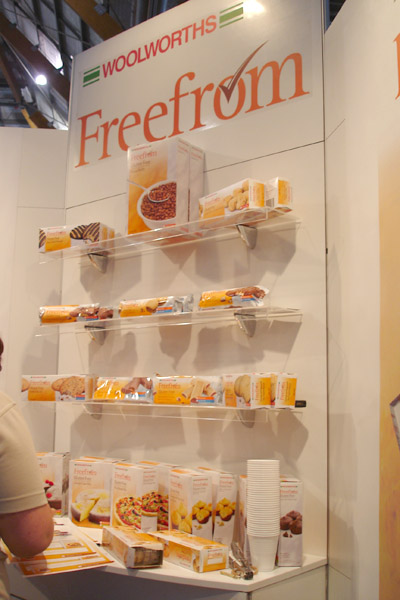 Woolworths FreeFrom range
www.woolworths.com.au
I'm pretty much addicted to their Gluten Free, Yeast Free Pizza base mix. It is different from regular pizza bases, but I love it still.




Pizzeria Perfecto




Artisse Organic




Gluten Free Bakery
www.glutenfreebakery.net
Gluten free lamingtons & chocolate eclairs that were too good to resist.




O'Brien Gluten Free Beer
www.gfbeer.com.au
I'm never going to be a drinker, but this stall sure was busy busy busy!




Shepherd's Bakehouse
www.shepherdsbakehouse.com.au (site underconstruction)




Mototo
www.mototodairyfree.com
I was a bit hesistant at first, but since it was dairy free, soy free and gluten free I figured it couldn't hurt me too much. VERY yummy, the vanilla icecream was the best.




Marci's Gourmet
www.marcisgourmet.com




Oasis Group
www.oasisgroup.com.au
Organic Gluten Free Pasta




Funky Fudge
www.funkyfudge.com.au
I bought the Vanilla Choc Fudge.. yummo.




Fantastic Snack's
www.fantasticsnacks.com.au




Bakeliners
www.bakeliners.com.au
Toasty Bags! They allow you to toast your bread in a toaster without the hassle of cross contamination. Great idea!




Naturally Good
www.naturallygoodproducts.com.au
Gluten Free Products for Coeliac Disease, Food Allergies, Food Intolerance. I love their cookies, but hadn't tried the rest of the range. They have a choc pudding mix out now.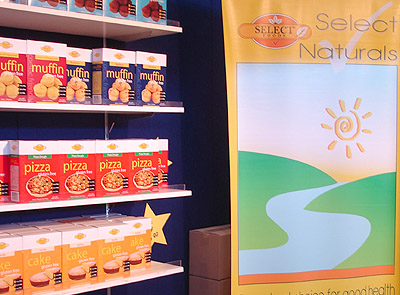 Select Foods
www.selectfoods.com.au
I hadn't heard of them before, so I bought one of their pizza base mixes and a muffin mix. Can't wait to try it!




Freedom Foods
www.freedomfoods.com.au
They had the biggest stall in the show - and rightly so. It looks like they've expanded their range of food (and they already had a big range!). Gluten free crumbed fish and Gluten free crumbed chicken! Aswell as heat-and-serve pizza's.
Gluten Free Gourmet www.glutenfreegourmet.com.au I'm already a big fan of their Vanilla Yo Yo's and now I had my chance to sample a few other products in their range. Pretty good so far!


And last, but not least ...


Thomas Chipman Corn Chips
www.chipman.com.au
If you've been a regular reader, you might know that I love these chips and buy them regularly. It was great to meet the owner, and also pick up a Thomas Chipman canvas bag!


I didn't manage to take a photo - but I also loved Nicholson Fine Food's Australian Bush Lemon mousse, and the Basco range of biscuits. Sue Shepard was on hand to sign her cookbook "Irresistibles For The Irritable" for me, can't wait to try all the recipes out.

All in all, a great expo and a cool way to spend the morning browsing through so many new and excitings things to eat. I'm encouraged to see so many new gluten free and yeast free products out and about - it certainly helps to know that healthy and fun food is still around.

On the way out, the crowd more than tripled in size - and I'm sure next year will be even bigger and better.

Product reviews on all the gluten free food I picked up to follow!

Posted by Tracey
Comments
Ooh nice work on the photos! So much goodness!
Posted by: Helen at October 5, 2006 10:52 AM
thanks Helen :) it was FUN!!
Posted by: tracey at October 5, 2006 08:41 PM
The Melbourne show had 5000 visitors within the first three hours (WOOHOO!) they're making it 2 days next year, such great news!
Posted by: S at October 10, 2006 06:54 PM
Post a comment