Gluten Free NSW - iPhone App!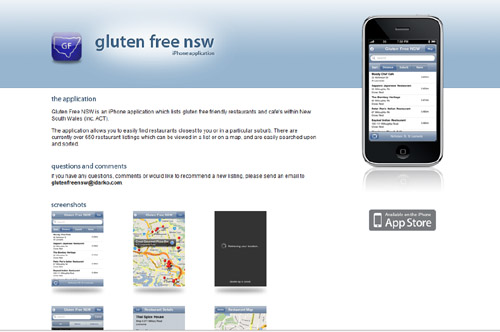 For those with an iPhone or an iPod - a good gluten free eating guide has been on the top of our gluten free list!
Darko has just released an iPhone Application for those with a gluten intolerance or allergy -
My wife has a gluten allergy, and I was getting frustrated with not knowing where we can find places to eat that are close to us, wherever we may be. So I gathered a listing of as many restaurants that have gluten free items and made the app to help us out.

Visit idarko.com for more details, or click here to find the App on the App store.
Posted by Tracey

i'm back!
After a long hiatus, I will be trying to get more regular posts in here at the gluten free blog :)
A brief update - my gorgeous son Jasper is now 15 months old.. and we are expecting a daughter in May 2009!
I haven't stopped eating and photographing gluten free food - and have not stopped making notes of the newest and tasiest stuff out there. I've got alot of photos and website links to post, so stay tuned as I start a gluten free blog post frenzy!
xx Tracey
Posted by Tracey

Outback Steakhouse Australia - gluten free menu
Outback Steakhouse, in cooperation with the Gluten Intolerance Group®, is now providing a Gluten-Free Menu!
Some of the items you can get include the Grilled Prawns On The Barbie, No Rules Burger, Steakhouse Salad, Botany Bay Fish O' The Day, Rockhampton Rib-Eye, Chocolate Thunder From Down Under® and the Lobster Tails.
Double check their menu for ordering tips.
www.outbacksteakhouse.com.au/menu
Sydney locations -
Lot 4/1190 Old Windsor Road
Parklea NSW 2768
Level 1, 3 George Street
North Strathfield NSW 2137
Posted by Tracey | Comments 0


Orgran Everyday Health magazine
Orgran's latest Everyday Health Magazine just landed in my mail box today! Issue 13 is just in time for Coeliac Awareness Week (March 13th to 20th 2007).
From flicking through it quickly, I can already see a tonne of new recipes to try. I can't wait to get stuck into the gluten free lemon meringue pie by Yvonne Voorthuizen.
Check out the other Everyday Health issues by clicking here.
Posted by Tracey | Comments 0


Hog's Breath Cafe Gluten Free
Hog's Breath Cafe has kindly provided me with a list of gluten free food we can enjoy at their restaurants.
- Soup of the day made without thickeners or only with arrowroot thickeners or pure corn flour
- Nachos
- Burgers - served in lettuce cups instead of bread, without Hickory BBQ sauce and curly fries
- Caesar Salad, no croutons, dressing has wheat that contain no detectable gluten
- Avocado Mushroom Salad - without blackened seasoning on potato chunks
- Calamari Balsamic Salad - with plain grilled calamari
- Chicken & Ranch Salad - with fresh grilled chicken only, without blackened
seasoning on potato chunks
- Safe Prime Rib Dishes: Natural, Avocado with Béarnaise, Garlic Mushroom
- Cajun Salmon - without blackened seasoning and croutons
- Chicken Dijonnaise - sauce contains wheat without detectable gluten
- Fresh Fish of the day - no blackened seasoning or flour
- Steaks, without Dianne, Pepper or Mushroom Sauce
- Pork Ribs, marinate is gluten free, Hickory sauce is not.
- Banana Split , without the wafer
- Ice cream, some toppings are gluten free. Please verify with the individual restaurant.
Please do not order - Hickory smoked BBQ sauce, Lime or Honey Sweet Chilli sauce, Blackened seasoning, curly fries. We offer baked potato or mashed potato on our menu.
Visit their website to find your nearest Hog's Breath Cafe restaurants.
Posted by Tracey | Comments 0

Gluten free Pepsi products
From the Gatorade website -
I'm gluten intolerant, can I still drink Gatorade?
All Gatorade products (liquid and powder formulations) are gluten free and are therefore suitable for gluten-sensitive individuals with Coeliac Disease. The dextrose we use in these products is sourced from Maize.
Also for your information Pepsi products (diet and regular), including Pepsi Max, Mountain Dew and 7UP are gluten free. The caramel colour used is derived from glucose or sucrose syrup; not from wheat or a source of gluten.
Posted by Tracey | Comments 0

Coealic on TV - House
An episode of House aired recently in Australia that mention celiac disease!
Cameron brings up wheat gluten. Both Kara and Michael had celiac disease, an affliction where the body cannot process gluten. Each time the gluten was introduced to the body, the small intestines were further damaged, until they reached the point where they couldn't receive vitamins and minerals. This led to the niacin deficiency, which created the other problems. Celiac is also why Michael's medicines didn't work. His body couldn't absorb them. Additionally, celiac patients are susceptible to cancer of the stomach lining, which would explain the bloody vomiting.
Episode 222 - Forever
Posted by Tracey | Comments 0

Boost Juice
Boost Juice have gluten free smoothies!
All FRUIT SMOOTHIES, SUMMER CRUSHES and FRESHLY SQUEEZED ZEN BLENDS are gluten free.
SUPER SMOOTHIES
Energy Lift
Acai Recovery
Green Tea Mango Mantra
DAIRY SMOOTHIES (made with low-fat milk, not soy milk)
Banana Buzz
Man Go Wild

SUPER JUICES
Energiser Juice
Wild Berry Skinny Juice
Super Juice
SHOOTERS
Acai
MEGA BOOSTERS
Energiser BOOST
Protector BOOST
Zen BOOST
Skinny BOOST
Antioxidant BOOST
Vita BOOST

Also -
DAIRY FREE
All SUMMER CRUSHES and FRESHLY SQUEEZED ZEN BLENDS and SHOOTERS are dairy free.
SUPER JUICES
Energiser Juice
Wild Berry Skinny Juice
Wheatgrasshopper Juice

FRUIT SMOOTHIES
Sorbet is dairy free and may be substituted for yoghurt to make FRUIT SMOOTHIES dairy free.

MEGA BOOSTERS
Energiser BOOST
Protector BOOST
Zen BOOST
Skinny BOOST
Antioxidant BOOST

DAIRY AND GLUTEN FREE

All SUMMER CRUSHES and FRESHLY SQUEEZED ZEN BLENDS are both dairy and gluten free.
FRUIT SMOOTHIES are dairy and gluten free if made with sorbet instead of yoghurt.

SUPER JUICES
Energiser Juice
Wild Berry Skinny Juice
SHOOTERS
Acai
MEGA BOOSTERS
Energiser BOOST
Protector BOOST
Zen BOOST
Skinny BOOST
Antioxidant BOOST
Posted by Tracey | Comments 0

Gluten Free Gourmet Expo 2006 review
I've never been to any sort of Gluten Free show or class or expo, so you can imagine the level of excitment leading up to the Gluten Free Gourmet Expo!
I arrived bright and early, just after 9am, to avoid the crowds I'd heard about from previous Expo's. Walking up to Exhibition Hall 3, there weren't many people there yet which was suprising but later on I was grateful to beat the rush! On the way in, they handed out blue bags filled with some freebies and some information on coaelic disease.
I'm usually great at taking photographs, but excuse the poor quality in these shots. I blame the rush of gluten free food choices! Here are some of the exhibitors this year -
Sydian Natural Food Products www.syndian.com.au The dips were yummy!




LEDA Nutrition
www.ledanutrition.com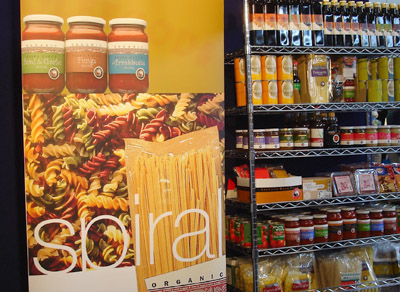 Spiral Foods
www.spiralfoods.com.au




Gourmet Treats From Heaven
www.cookiesandbiscuits.com
I adore the chocolate brownies and raspberry mirror muffins. It's like I never went gluten free!




Jen's Homemade Cookies




Orgran
www.orgran.com
I love their pastas - I stocked them in bulk ;)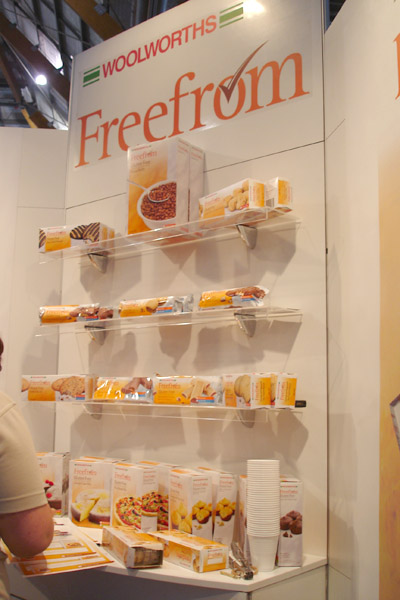 Woolworths FreeFrom range
www.woolworths.com.au
I'm pretty much addicted to their Gluten Free, Yeast Free Pizza base mix. It is different from regular pizza bases, but I love it still.




Pizzeria Perfecto




Artisse Organic




Gluten Free Bakery
www.glutenfreebakery.net
Gluten free lamingtons & chocolate eclairs that were too good to resist.




O'Brien Gluten Free Beer
www.gfbeer.com.au
I'm never going to be a drinker, but this stall sure was busy busy busy!




Shepherd's Bakehouse
www.shepherdsbakehouse.com.au (site underconstruction)




Mototo
www.mototodairyfree.com
I was a bit hesistant at first, but since it was dairy free, soy free and gluten free I figured it couldn't hurt me too much. VERY yummy, the vanilla icecream was the best.




Marci's Gourmet
www.marcisgourmet.com




Oasis Group
www.oasisgroup.com.au
Organic Gluten Free Pasta




Funky Fudge
www.funkyfudge.com.au
I bought the Vanilla Choc Fudge.. yummo.




Fantastic Snack's
www.fantasticsnacks.com.au




Bakeliners
www.bakeliners.com.au
Toasty Bags! They allow you to toast your bread in a toaster without the hassle of cross contamination. Great idea!




Naturally Good
www.naturallygoodproducts.com.au
Gluten Free Products for Coeliac Disease, Food Allergies, Food Intolerance. I love their cookies, but hadn't tried the rest of the range. They have a choc pudding mix out now.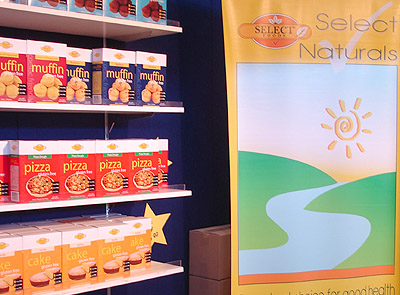 Select Foods
www.selectfoods.com.au
I hadn't heard of them before, so I bought one of their pizza base mixes and a muffin mix. Can't wait to try it!




Freedom Foods
www.freedomfoods.com.au
They had the biggest stall in the show - and rightly so. It looks like they've expanded their range of food (and they already had a big range!). Gluten free crumbed fish and Gluten free crumbed chicken! Aswell as heat-and-serve pizza's.
Gluten Free Gourmet www.glutenfreegourmet.com.au I'm already a big fan of their Vanilla Yo Yo's and now I had my chance to sample a few other products in their range. Pretty good so far!


And last, but not least ...


Thomas Chipman Corn Chips
www.chipman.com.au
If you've been a regular reader, you might know that I love these chips and buy them regularly. It was great to meet the owner, and also pick up a Thomas Chipman canvas bag!


I didn't manage to take a photo - but I also loved Nicholson Fine Food's Australian Bush Lemon mousse, and the Basco range of biscuits. Sue Shepard was on hand to sign her cookbook "Irresistibles For The Irritable" for me, can't wait to try all the recipes out.

All in all, a great expo and a cool way to spend the morning browsing through so many new and excitings things to eat. I'm encouraged to see so many new gluten free and yeast free products out and about - it certainly helps to know that healthy and fun food is still around.

On the way out, the crowd more than tripled in size - and I'm sure next year will be even bigger and better.

Product reviews on all the gluten free food I picked up to follow!

Posted by Tracey | Comments 3

Gluten Free Gourmet Expo 2006
Full review soon!
I had a great morning at the Expo today, and as you can see I picked up a few things. My favourites - Thomas Chipman, Gourmet Treats from Heaven and Gluten Free Gourmet - were there, so it was fantastic to put a face to the food I've enjoyed so far. Some new ones thrown in there for good measure. Really great to see so many people enjoying food :)
Posted by Tracey | Comments 1

The Allergy Expo and Gluten Free Food Show 2006
Just when the Gluten Free Gourmet Expo is coming up, I find out about another great one for anyone with food allergies!
From the website -
The Allergy Expo and Gluten Free Food Show brings together all the products, services and information to help people and parents of children with these conditions live a more normal life.
Attend the expo and…
* Listen to free informative seminars
* Gain expert advise from peak patient associations
* Find allergy friendly products for you and your family
* Learn how to Allergy-proof your home
* Discover how to rid your house of dust mites, pollen, mould and pet allergens
* Discover delicious allergy friendly recipe ideas for the whole family
* Take an Allergy test
* Taste wheat-free, gluten-free, dairy-free and nut-free foods
* Get a free expert skin consultation
* Sample organic and hypoallergenic cosmetics and skincare products
* Get a free consultation from a qualified dietitian
The Allergy Expo and Gluten Free Food Show
24-26th November 2006
Sydney Convention & Exhibition Centre
Hall 2, Darling Harbour, Sydney, Australia
Adults $15
Concession $12.00
Children under 12 Free
For more details -
allergyexpo.com.au
Posted by Tracey | Comments 0

another update!
Sorry for the lack of posts on gluten free foods these past couple of weeks. I've accidentally eaten something I shouldn't have so I'm suffering for it now!
I thought instead of not posting anything (since I haven't been out to find new things), I'd open the discussion for YOU to let me know how you're going with your food allergy or intolerance and how you deal with mistakes if/when they happen.
Leave a comment and let me know!
What is your food allergy or food intolerance?
What are your symptoms when you've eaten something you shouldn't have?
Posted by Tracey | Comments 0

Dijon Foods, Castle Hill
When I emailed Gourmet Treats from Heaven about where to get their amazingly delicious gluten free cakes, they pointed me towards Dijon Foods in Castle Hill. It's taken me months to get down there (despite being around the area at least once a week), and I'm so glad we took a look around.
Dijon Foods is stacked with bulk foods, gourmet foods, flours, nuts, frozen goods and more. I definately recommend poking around if you are looking for the Orgran range, and the yummy Gourmet Treats from Heaven range - at a cheaper price. (The Orgran pasta was $2, instead of paying $2.40+ at other stores. The cakes were $2.30 instead of $3.95+ at Gloria Jeans etc.)
In the photo above, you can also see that they stock Sydian who's products are exclusively vegetarian, mostly vegan, and the majority are gluten and dairy free.
www.dijonfoods.com
Unit 6/8 Gladstone Rd
Castle Hill NSW
Tel No: 02 8850 7811
Posted by Tracey | Comments 0

Free Gluten Free Recipes
Download a range of FREE Gluten Free recipes from www.glutenfree.com
Recipes in the Old Fashioned Cake & Cookie Mix PDF include
- Old Fashioned Layer Cake
- Sour Cream Blueberry Bundt Cake
- Sicilian Ricotta Cheese Cake
- Peanut Butter and Jelly Cookies
I'm very much looking forward to baking some gluten free cookies soon - I miss smelling them while they're hot in the oven!
* Recipes do include dairy products, so be warned.
Posted by Tracey | Comments 0

monthly update #2
I was calculating in my head this morning, and it's been 3 months since going totally wheat and yeast free. It feels like a longer time, but I've gradually been feeling better and better as the weeks go on (apart from my hormones though!). Anxiety is definately down, and I haven't had a migraine at all.
It's pretty exciting to remember how 'normal' feels compared to how I felt before, and I'm more than happy to continue eliminating wheat and yeast for the rest of the year at least.
My favourite food so far -
Gourmet Greats from Heaven Raspberry Muffin.
Healtheries Lemon & Lime Shortbread
Spelt Flour pancakes
and of course, Quinoa for breakfast.
Posted by Tracey | Comments 0

Macro Wholefoods Bondi
I'm always on the lookout for great grocery stores that stock alot of gluten-free products - so when i heard about Macro Wholefoods, i had to go!
The Bondi store is the closest one to me, and I found it quite easily on Oxford Street. The cafe was busy with a mix of people enjoying their lunch - and on the other side of the store were the groceries.
I took my time looking through everything they had, and the prices were OK for buying 'speciality' food. I bought a new few things to try and a few favourites to treat myself. There were variations in organic fruit and vegetables, nuts, pasta, lots of organic drinks (even gluten free beer!!!), the biggest selection of organic cookies and confectionery i've seen aswell as household and personal goods.
It's great to find somewhere you can find healthy food, so I'll definately stop in when I'm in the area again.
Macro Wholefoods
31-37 Oxford St
Bondi Junction
Phone: 02 9389 7611
www.macrowholefoods.com.au
Posted by Tracey | Comments 1

meal suggestions
i'm pretty lazy when it comes to cooking, so thankfully there are a few good things that i can whip up quickly without spending hours in the kitchen.
last night's dinner was curried brown rice with vegetables and this morning, simple spelt pancakes with strawberries, apple and a drizzle of honey!
Posted by Tracey | Comments 0

Organic Expo 2006
Another expo! This one I didn't know of until 5 minutes ago when I was reading Grab Your Fork

Saturday 22nd July 2006 9.00am – 6.00pm
Sunday 23rd July 2006 10.00am – 5.00pm
website
From the website, Gluten Free products -
Ozganics (Stand 55a)
Ozganics - a great range of certified organic gluten free spreads, dressings, sauces, pasta sauces. Introducing New Lines - ready to eat soups - pumpkin, tomato & vegetable.
www.ozganics.com.au
Olive Green Organics (Stand 14)
Olive Green Organics is an importer & distributor of quality certified organics. We specialise in dietary needs & nutrition including quinoa & amaranth products.
www.olivegreenorganics.com.au
real good food (Stand 12)
Have flourless cake mixes, as well as some gluten free products.
www.realgoodfood.com.au
Organic Pizza Company (Stand 168)
Ingredients include Organic Wheat Flour, Water, Extra Virgin Oil, Organic Peeled Tomatoes, Sea Salt, Organic Whole Tomatoes, Basil, Oregano, Garlic & Yeast. I can't eat this because of the wheat flour and yeast, but I'm sure someone else here can!
organicpizza.com.au
I'm going to pop into the Expo over the weekend and check it out myself! I'm sure I've missed a few stands that have gluten free products.
Posted by Tracey | Comments 0

Gluten Free Gourmet Expo
Mark this down on your calendar!!
Friday 29 and Saturday 30 September 2006
Sydney Showground Olympic Park
The Expo will be open to the public from 4pm to 9pm on Friday 29 September and 9am to 5pm on Saturday 30 September.
According to the Clever website, it's FREE to enter! How great is that?? You can bet i'll be there buying up the place.
NSW Coeliac Society
Clever Event Company
Posted by Tracey | Comments 0

R&R Bakery
Found the website of the company who makes those great gluten free pizza bases!
Which also means I found the ingredients so I can post them up :
R&R Pizza Base
RICE FLOUR, POTATO FLOUR, CANOLA OIL, SOY FLOUR, FILTERED WATER, RAISING AGENT (336, 500), RICE BRAN, VEGETABLE GUM (464), SEA SALT.
Posted by Tracey | Comments 0

Good Food & Wine Show, Sydney
The Good Food & Wine Show is coming up in Sydney this weekend and it should be good!
There seems to be more and more gluten-free companies out there - and there are a few that will be at the show. I'm interested in trying acai from NuFruit and seeing how many other things I can eat.
Posted by Tracey

About Life, Rozelle (Sydney)
A fantastic market place with a huge range of organic and healthy produce and products.
From quinoa to cookies, potatoes to pies - everything in that store I could probably eat safely. Definately making this a fortnightly trip!
605 Darling Street, Rozelle NSW
Open 7am to 7pm most days
www.aboutlife.com.au
Posted by Tracey

monthly update #1
I'm doing really well :) It's been about 3-4 weeks and I've stayed wheat/yeast free. It's only that I've been off the pill that I'm feeling much much better - but I can feel that the food I eat is having a positive effect on me now.
I am seeing a new naturopath that is helping me with my food intolerances and also my hormones. I feel that it's so important to take care of your health while you can, especially for your older-self.
Posted by Tracey

5 and 2 a day
i have this policy with myself now - 5 and 2 a day.
it's the same as the 7-a-day program at Coles.
if i can eat 5 types of vegetables and 2 types of fruit in one day, then i can have my treats (carob buttons, chips etc).
it's been going really well - and i've found it's scared away any hints of the cold i thought i was getting!
just eating 1 vege salad, an apple and some grapes or kiwi fruit means HELLOO CAROB!
Posted by Tracey

what i am doing
for the past 2 weeks or so, i've been heavily cutting things out of my diet. this is a list of what i am (and have to be) strict on
- no bread
- no meats, except for turkey
- no chocolate
- no cake
- no coke or fanta
- no fast food, except for sushi
- no soy sauce
- no fried foods
- no donuts
- no burgers
my biggest problems are with yeast and flour - i've known that for a while. but everything else is quite new and i'm still skeptic on whether i am allergic/intolerant of them (like chocolate).
i am very committed though, ingredient reading on everything and if it doesn't have ingredients listed - i don't get it.
Posted by Tracey

mellow yellow carob buttons
Because I can't have chocolate, carob is my source of sweetness when it comes to snacks.
Mellow Yellow have a wide range of healthy snacks (I love the Paw Paw) and ontop of that - the BEST carob I've ever had.
When it went out of stock for a few weeks, I went on a hunt for a replacement carob but nothing succeeded it and I went without. That's until I checked my Coles one night and there it was, fully stocked!
I bought 4 packets, and tend to stock up on more for our pantry.
Posted by Tracey

country life bakery
Country Life Bakery http://www.countrylifebakery.com.au have been a great find!
I wasn't going to order bread online, so when I found it in my local Coles (and again in my local Harris Farm Market), and it was on special, I had to try it.
I found that the Rye & Soy loaf was tasty and really surprising (I had read stories about how horrible Rye is). I do have to limit myself to 2 slices every 2 days though, I think I can't have Soy Flour.
Posted by Tracey

ryvita
Ryvita (www.gwf.com.au/brands/ryvita.htm) has been great for me, so I tend to eat it for breakfast and as a snack.
Here are my suggestions -
Ryvita on it's own
Ryvita & Avocado
Ryvita with tomato & avocado
Ryvita with peanut butter & honey

Posted by Tracey