Naturally Good Deli Dippers!
They're not posted to the Naturally Good website yet, but these gluten free Deli Dippers are sure to be a hit at your next party, or as a snack at home when you're after something yummy to nibble on!

My favourite is the Rosemary & Extra Virgin Olive Oil Gluten Free Deli Dipper which is perfect on it's own, but I could easily dip it into some hommus or relish for an extra kick.
I haven't seen these out in stores yet, but I will try to get in touch with Naturally Good about where to find these yummy gluten free snacks. (I picked up a few boxes from the Gluten Free Food Expo Sydney recently).
Posted by Tracey


Gluten Free Pastry by The Pastry Pantry
This is something I've been waiting on since starting to eat gluten free food - ready made gluten free pastry, including gluten free puff pastry!
I've already tried out all of the range and I can highly recommend them all - Gluten Free Rough Puff pastry, Sweet Shortcrust pastry, Savoury Shortcrust pastry and Rich Chocolate Shortcrust pastry.
Check the website for stockists, or order online at Gluten Free Direct.
Posted by Tracey


Gluten Free Lemon Meringue
Posted by Tracey

Melinda's Gluten Free Goodies Choc Fudge Brownies
Another delicious gluten free premix by Melinda's Gluten Free Goodies.
I've made the cake into a truffle type dessert by rolling a pinch of cake into a ball, and then dipping it into chocolate. Amazing! I've had a lot of good feedback from this one :)
Posted by Tracey


Gluten Free Apple Tea Cake
Recipe coming soon!
Posted by Tracey

Gluten Free Burger Bun
YUM.
Another great burger, the bread was made from Basco's gluten free, yeast free bread mix.
Posted by Tracey

Melinda's Gluten Free Goodies White Choc Custard Biscuits
Melinda's Gluten Free Goodies White Choc Custard Biscuits
These are a family favourite of ours - quick and easy to make, they are just as tasty as they look on the box!
Thank you to Melinda's for bringing out such wonderful gluten free premixes :)
Posted by Tracey

Fantastic Noodles - Gluten Free Instant Noodles range
Fantastic Noodles have 2 flavours of gluten free instant noodles, available at Coles and Woolworths - Beef and Chicken!
Great for a quick snack or a light meal, the glass noodles make this a perfect gluten free instant noodle meal.
Posted by Tracey

gluten free dinner ideas?

potato jacket stuffed with potato mash, bacon, cheese and sundried tomatoes.
What do you make for YOUR gluten free dinner?
Posted by Tracey

Woolworths FreeFrom Gluten Free Potato Chips
The Woolworths Freefrom range is specially designed for people with special dietary requirements.
These are still my favourite gluten free potato chips out there today - Original, Salt & Vinegar, BBQ and Chicken gluten free flavours can be found in the health food section at Woolworths.
Posted by Tracey



gluten free comfort food - Congee
while suffering from morning sickness this second time around, i decided to teach myself to make an all time favourite comfort food - Congee.
Congee is described as a type of rice porridge and is gentle on the stomach, but still tasty and comforting - great in winter!
To make congee, you take 1 part of white rice, to about 5 parts water, and pop both into a medium/large pot on a hot stove. Bring it up to boil and then turn it down to simmer. Stir regularly to avoid burning. The rice will take anywhere from 45 minutes to 2 hours to soften up and turn into a lovely warm soupy kind of thing.
Just before you take it off the stove, throw in some mince (beef is best) and slices of ginger and let it simmer until the mince is cooked. Top with diced shallots when serving. Yum!
Posted by Tracey

gluten free custard tarts
another childhood favourite! i'll make sure to post the recipe once i dig it up!
Posted by Tracey

gluten free pineapple tarts
A childhood favourite of mine is pineapple tarts - we bought these every Chinese New Year and I would swiftly scoff these down!
To make the gluten free version of pineapple tarts, I used Rowie's Shortcrust Pastry Mix for the base and then made my own pineapple jam to place on top. Delicious!
Pineapple Jam
- 1 tin of crushed pineapples (about 250grams)
- 6-8 tablespoons of sugar
Add the pineapples and sugar in a pot and heat on the stove. Stir regularly to avoid burning. Remove from stove once it starts to smell and look like jam.
Add jam to the pastry bases you've cut up, and bake in the oven for about 15 minutes or until the pastry starts to brown.
Posted by Tracey

another gluten free chocolate cake
Posted by Tracey

Freedom Foods Gluten Free Deluxe range
These gluten free hazlenut biscuits are my ultimate treat - they don't last long in my house!
It's like an extravagant version of a Tim Tam, only gluten free and wrapped in individual packages (probably to slow me down, LOL).
I couldn't find them listed on the Freedom Foods website, but they can be found at Woolworth's in the health food aisle.
Posted by Tracey

butterfingers gluten free shortbread
Butterfingers gluten free shortbread - BEST GLUTEN FREE SHORTBREAD EVER.
There are really no other words for this entry, other than you can find it at Woolworth's in the health food aisle.
Go!
Posted by Tracey

gluten free Indian food
Even though I have a mum that makes the most incredible Indian curries at the drop of a hat, my pregnant appetite is no match. Luckily, at the Gluten Free Expo 2008 in Sydney, I came upon Tasty Bite.
Tasty Bite Ready to Eat side dishes and meal solutions are perfect for a quick meal at home, a hot lunch at the office or out camping!
All Natural - No Additives or Preservatives
Vegetarian, Vegan, Gluten Free options
Their gluten free Indian food range includes -
Bombay Potatoes
Jaipur Vegetables
Jodhpur Yellow Dal
Butter Chicken & Basmati Rice
Chicken Korma & Basmati Rice
While I love fresh cooked meals, I always keep a box of Tasty Bite in my pantry these days! You never know when you want a fast, gluten free Indian meal :)
Posted by Tracey


sabor portuguese chocolate mousse
found at the gluten free expo 2008 in sydney, i practically devoured their orange chocolate mousse all the way home, saving only a bit so that i could convince my parents that THIS was how it was supposed to be done!
Sabor Portuguese chocolate mousse is not only gluten free, but cream free. Yum.
Gluten Free Chocolate Mousse by Sabor
Posted by Tracey

rowie's gluten free mixes
the wonderful Rowie's Cakes released these fine gluten free products a little while ago now. i've had the pleasure of using both the gluten free cake mix and the gluten free shortcrust pastry mix many times, and i am a big fan!
Rowie Dillon has developed a range of mixes that are tasty and friendly. In keeping with our fresh range policy Rowie's Pantry range make it possible for naughty tasty cakes and desserts to be good for you.
Find out more about the gluten free mixes here.
Both can be found at Woolworth's in the health food aisle.
Posted by Tracey

BASCO gluten free yeast free bread
another great batch of gluten free and yeast free bread!
for this batch, i learnt that resting the bread for at least an hour will help it to rise and bake properly. write this tip down and try it if you haven't already!
bread mix by Basco
Posted by Tracey

gluten free lemon meringue cheesecake
if you could not tell by now, i have a serious sweet tooth! this gluten free lemon meringue cheesecake was made using any regular cheesecake recipe, substituting the biscuit crumbs with gluten free biscuit crumbs for the base. the cheesecake filling and meringue top, is already gluten free!
Posted by Tracey


gluten free BBQ sauce by Ozganics
first things first - the Gluten Free Expo 2008 was held more than 5 months ago now and some of the products I tried and took home that day are still firm favourites!
A good gluten free barbecue sauce is hard to come by - but I believe Ozganic's BBQ sauce is even better than non-gluten free condiments!
Incredibly tasty, almost moreish - I'm a bit fan of condiments, and this one is my favourite.
Ozganics is available online and in health food stores in Australia. Their website seems to be offline at the moment, but I will post again once it's back up.
Posted by Tracey

gluten free Pineapple Tarts
just in time for Chinese New Year, i learnt how to make gluten free pineapple tarts my whole (very chinese) family loves!
the ingredients are simple -
Rowie's Shortcrust Pastry mix for the base
1 can of crush pineapple
8-10 tablespoons of caster sugar
a splash of lemon juice
- all cooked on medium heat until melted in together into a jam
blind bake the pastry for 15 mins
then scoop a teaspoon of the pineapple jam on each cut out
bake until golden
enjoy!!
Posted by Tracey


Woolworth's gluten free choc orange biscuits
Another great tasting gluten free biscuit from Woolworth's!
Posted by Tracey

sweetness the patisserie
Sweetness the Patisserie is fast become a favourite and a regular of mine. I first spotted them at the local Farmer's Market at Rouse Hill and haven't look back since! Gena Karpf has created a range of gluten free goodies including gluten free mini loaves of bread, gluten free muffins, gluten free slices, gluten free english toffee, gluten free marshmallows, gluten free cookies and more!
Here are some of my favourites - everything I've tried so far!

The ever yummy gluten free triple choc cookie

The gluten free lemon and poppy seed cookie

gluten free marshmallows!

gluten free english toffee

gluten free marshmallows with choc topping (i think - really should write the names down!)

gluten free choc covered, orange filled date
SWEETNESS The Patisserie
http://www.sweetness.com.au/
Posted by Tracey

gluten free lasagne
I made my very first lasagne over the weekend :)
It's a turkey lasagne too! Made with Orgran's Rice & Corn Mini Lasagne Sheets, and a ricotta cheese bechamel sauce.
Recipe to come.
Posted by Tracey

The Protein Bakery - Gluten Free Moccachino Protein Cookie
An AMAZING new gluten free cookie was spotted at our local health food store, so I just had to try it!
The Protein Bakery - Gluten Free Moccachino Protein Cookie!
After 1 ½ years in development we have launched a new product called "The Protein Cookie". A moreish, yummy, soft baked, healthy snack serving as a great alternative to all the health/protein bars & shakes. Perfect for "people sick & tired of the bar scene!" Also a great indulgent snack, minus the guilt!
These cookies are great for energy, strength, speed, endurance, body building, recovery, dieting, Coeliac, general health, injury and achieving the best quality of life.
I found that the moccachino gluten free cookie was thick and filling and very satisfying :)
These delicious cookies are :
Free of gluten & wheat. And they taste superb
I agree! My mouth is watering just thinking of them .. gotta go hunt my next one down ..
http://www.theproteinbakery.co.nz
Australian and New Zealand stockists listed here aswell as online stores
Posted by Tracey

Go Natural - gluten free chocolate frogs!
These are seriously delicious! A gluten free dark chocolate frog that helps conservation? Awesome.
Lactose Free, Low Sodium Gluten Free Chocolate Frogs by Go Natural
Every Frog sold goes to frog conservation projects :)
Click here to view the Go Natural website
I found these in Coles, natural foods aisle
Posted by Tracey

Gluten Free muffins by Roberto's Cakes
Roberto's Cakes are always a gluten free favourite of mine. So it was a treat when I found their gluten free orange muffin, and gluten free coconut and fruit (i think) muffin at David Jones Food Hall!
www.robertoscakes.com.au
Roberto's Cakes & Fine Foods
76 Victoria Rd Rozelle NSW 2039
Posted by Tracey

Gluten Free cake by Manna from Heaven
I think this is their Gluten Free Plum cake? Whatever it was, it was DELICIOUS!
David Jones Food Hall, Market Street Sydney
Posted by Tracey

David Jones Food Hall - Gluten Free cakes
David Jones Food Hall (City store) has a wonderful selection of gluten free cakes, muffins and cookies. It's surprising, but wonderful, to see such a big name in Australian retail taking a positive role in bringing gluten free food to Sydney!
When you visit the Food Hall, stop by the Patisserie counter. The section closest to the Cookie Man counter has a few shelves of gluten free cakes and gluten free muffins by some amazing gluten free bakers. This includes Manna From Heaven, Robertos and Rowie's - all gluten free and great tasting!
From memory, there were flourless chocolate cakes, gluten free orange muffins, gluten free plum cakes, gluten free fruit and coconut muffins.
http://www.davidjones.com.au/services/market_st_foodhall.jsp
65-77 Market Street
Sydney, NSW 2000
Posted by Tracey


Woolworth Freefrom Gluten Free cookies
The very yummy gluten free choc chip cookies from Woolworth's NEVER last when I get my hands on them. They should make jumbo packs!
Posted by Tracey

Gluten Free Potato Chips by Thomas Chipman
I was so excited to see Thomas Chipman's gluten free potato chips finally in the supermarket! They're really good - look and taste like a gourmet potato chip, perfect :)
Found in Woolworth's health food aisle
Posted by Tracey

quick and easy gluten free food
I have 2 fail safe dinners that I know I can rely on when I don't feel like standing in the kitchen for more than 30 mins
Preheat oven to 180 degrees celcius
1 cup arborio rice
2.5 cups of Vegeta stock
stir in a ovenproof dish
top with 4 tablespoons of butter
pop into the oven for 30-40 mins
that's it!
stir in steamed vegetables, cheese, chives, cooked chicken squares - anything you want once it's done. too easy :)

Cannellini Beans & Mash Potato

Mash potatoes - no special trick, grab some potatoes and mash! :P
1 can cannellini beans
1/2 jar of pasta sauce
I usually make some turkey meatballs or fry up some mince
mix together
place mix on top of mash potato
add chives and cheese
If I have time, I'll make some gluten free pasta instead of the mash - and i'll bake some gluten free bread and spread some garlic butter on it. yum :)
Posted by Tracey

gluten free chocolate cake
I love it when I find bargains.... This cake was made from the Woolworth's Freefrom range of cake mixes - which was on special last weekend. A whole cake for $1.17!
I did add in a large tablespoon of nutella to make it extra gooey - and it did the trick ;) Very moist and chocolately
Posted by Tracey

coeliac awareness week!
as found in this week Woolworth's catalogue :)
Posted by Tracey

Absolutely Gluten Free, Werribee Victoria
Stumbled upon this amazing shop located in Werribee, Victoria!
Are you sick of the struggle to find gluten free products? Well search no more. Also catering for dairy and fructose free needs, we invite you into our store to discover yummy food for the first time or reunite with old favourites.
With over 900 products and a commitment to excellent customer service, we are sure you will enjoy your visit. Only 25 minutes from the Melbourne CBD, take advantage of our in-store activities or make use of our cost effective delivery service.
www.absolutelyglutenfree.com.au
Let me know if you've ever stopped by!
Posted by Tracey


gluten free cheeecake - lemon meringue cheesecake!
Posted by Tracey

Gluten free cupcakes!
For my son's welcoming party, I baked more cupcakes using the Basco cake mix. I added a little bit of blue food colouring to the icing supplied - they were a hit!
Posted by Tracey


Gluten Free, Yeast Free bread
Moores gluten free, yeast free bread found at Woolworths supermarkets in Australia.
Posted by Tracey

Gluten Free Banoffee Pie
Yum, my very own gluten free banoffee pie!
Made with Freedom Foods gluten free cookies for the base, Nestle's NESTLÉ Top'n'Fill Caramel, and some whipped cream. Too easy!
First, crush the biscuits and mix with a little melted butter to press into a base. Set in the fridge for a few hours. Add the caramel layer, and then a layer of whipped cream.
Posted by Tracey

Gluten Free Custard Eclairs
A fantastic gluten free treat! The gluten free custard eclair by Gluten Free Bakery. Also available are gluten free chocolate eclairs, pies, gluten free cheesecake and gluten free rum balls - yum :D
Posted by Tracey

Laucke Flour Mills - Easy Bakers - Gluten Free Yeast Free Bread mix

Very simple to make! A great gluten free, yeast free and dairy free bread mix. Best Value - Easy Bakers 500g Dry Mix is approximately $2.50 and with water equates to a High Quality 850g finished loaf.
Available at Coles supermarkets in Australia.
Posted by Tracey

gluten free food online in australia
Another store I've found on the internet that ships gluten free food to Australian residences!
Gluten Free Life - http://www.glutenfreelife.com.au
Categories include gluten free baking, gluten free biscuits and crackers, gluten free bread, gluten free cereals and gluten free pasta.
Visit Gluten Free Life today

Posted by Tracey




Junior Caramels by Tootsie Roll are gluten free!
Junior Caramels
We are pleased to be able to inform you that, at this time, all of our confections are gluten, peanut and nut product free. We do not use wheat, barley, rye, oats, triticale, spelt or any of their components and that includes our manufacturing process.
We do use corn and soy products in the manufacturing of our products.
Hooray for them!
Boo for my hips!
Posted by Tracey

Gluten Free Salmon & Potato Bake
Gluten Free Salmon & Potato Bake
This one is simple as pie too :)
Boil and mash about 4 or 5 small potatoes, add a little butter if you like
Prepare the salmon steak by removing bones and laying skin side down on some foil on a tray.
Cover salmon steak with potato mash and pop the whole thing in an oven for about 20 minutes on 200 degrees celcius - or until the salmon is cooked and the potato is golden.
Serve with fries or rice, sprinkle with chives or basil
Voila!
Posted by Tracey

Basco Gluten Free Butter Cake Mix
Basco Gluten Free Butter Cake mix turned into cupcakes again!
This time, I added a little spoonful of strawberry jam in the middle, cream on top and more jam to finish it off.
Definately a treat :D
Posted by Tracey

Basco Gluten Free Chocolate Cake Mix
Basco Chocolate Cake mix turned into cupcakes!
I tend to make cupcakes instead, so that it's easier to eat ;)
Posted by Tracey

Coles supermarkets
I had to make a new post to tell you how impressed I am with Coles supermarkets lately!
Now that Freedom Foods and Uncle Rick's have come out with their frozen range of gluten free food, each Coles supermarket I've visited has been fully stocked with the full gluten free range. Very impressive!
Here are a few of my treats this week - the gluten free lamington by Uncle Rick's, gluten free whipped cream by Tatua, Freedom Foods drinking chocolate, Uncle Rick's gluten free meat pie and Freedom Foods' salmon cakes.
.. and there's still more to taste!
Posted by Tracey


Gluten free desserts are everywhere
When I needed to go gluten free, I thought my dessert eating days were over. There would be no cakes, no puddings, no nothing!
After almost 12 months of gluten free-ness, I'm finding little gems like this that are safe to eat.
Don't be afraid to ask the shop assistant or manager if they have any gluten free food, and don't be scared to educate them if they don't know what you're on about!
This lovely dessert is from Le Mille-Feuille
95 Glebe Point Rd, Glebe NSW
www.lmf.com.au
Posted by Tracey

Basco Gluten Free Bread Mix
Every week when I go out to get some bread, I have a real hard time tracking down Gluten/Wheat and Yeast free... Today was no different and because of the morning sickness (and the fact I think I was glutened on accident) I decided to try out Basco's Gluten Free Bread Mix which looked amazingly easy to bake at home, and was everything I was looking for!
The instructions are simple and you only need 1 egg and some water to make up the mix. I also didn't have a loaf pan, so instead I used a muffin tray to bake small bread rolls instead.
The result? Great tasting gluten free, yeast free and wheat free bread in 20 mins.
Delicious!
Posted by Tracey

Jelly Belly jelly beans are gluten free
On my latest hunt for a sugar fix, I found out that Jelly Belly jelly beans are gluten free!
According the their website -
Question: Are Jelly Belly jelly beans gluten free?
Answer: We do not use any wheat, rye, barley, or oats in the basic recipe for Jelly Belly jelly beans. The modified food starch used in the manufacture of our jelly bean candies is cornstarch.
www.jellybelly-uk.com/pages/q&a/ingredients_nutrition.shtml
As always please read all ingredients labels before buying or eating anything new. I've been told the Buttered Toast flavour isn't gluten free.
Cooking Cute have a great list of gluten free confectionery, and so does Gordon's Five and Dime.
Posted by Tracey


Gluten free fried chicken
Gluten free fried chicken at home!
I can't remember the recipe very well, but you substitute plain flour for gluten free flour.
I do remember the oil being much much cleaner using gluten free flour.
Posted by Tracey | Comments 0

gluten free pasta dinner
a really tasty, gluten free dinner with a special touch - a gluten free heart shaped bread!
gluten free pasta
turkey mince with oregano
tomato & basil sauce
gluten free garlic bread
Posted by Tracey | Comments 0

Sun Rice - Rice Cakes - gluten free!
Made from 100% Australian grown rice, all 4 new SunRice Flavoured Rice Cake products are gluten free.
New SunRice Thin Flavoured Rice Cakes are available in four exciting and tasty flavours – Herb and Spice, Sweet Chilli and Sour Cream, Sour Cream and Chives & Sundried Tomato and Basil.
Posted by Tracey

Freedom Foods New Frozen Range!
Sorry for not updating as much as usual.
I have big news - I'm PREGNANT! I do think it has something slightly to do with going gluten free last year. My health improved and things started moving along.
I've been having some terrible morning sickness these past 4 weeks, but not as bad as I know others have suffered. I will be writing up a gluten free morning sickness guide in the future.
Now that's aside - I've been able to get my hands on some of the Freedom Foods new range of Frozen Foods!
It was reported to be in Coles and Franklins supermarkets in Australia from March 1st, but so far I've only seen then in Franklins.
I'm happy to report that what I've had so far has been extremely yummy and that I'd recommend it to any food lover (not just gluten free folks!).
So far I've had -

Freedom Foods Crumbed Chicken Tenders and Freedom Foods Donuts. I have the Beef Lasagne tonight for dinner, and the Freedom Foods Sticky Date Pudding later on in the week.
My camera is down at the moment, but I promise lots of photos and more reviews as the range is released in more stores.
Posted by Tracey

Outback Steakhouse Australia - gluten free menu
Outback Steakhouse, in cooperation with the Gluten Intolerance Group®, is now providing a Gluten-Free Menu!
Some of the items you can get include the Grilled Prawns On The Barbie, No Rules Burger, Steakhouse Salad, Botany Bay Fish O' The Day, Rockhampton Rib-Eye, Chocolate Thunder From Down Under® and the Lobster Tails.
Double check their menu for ordering tips.
www.outbacksteakhouse.com.au/menu
Sydney locations -
Lot 4/1190 Old Windsor Road
Parklea NSW 2768
Level 1, 3 George Street
North Strathfield NSW 2137
Posted by Tracey | Comments 0

naturally good d'lush gluten free biscuits
If there's any gluten free biscuit you can rely on for a decent chocolate hit - it's D'Lush by Naturally Good!
Posted by Tracey | Comments 0

A gluten free Bento box
All naturally gluten free foods in my bento box.
White rice
Avocado
Corn kernels
Salmon
Cherry tomatos
Boiled egg
Posted by Tracey | Comments 0

syndian curried pumpkin bites
Syndian Curried Pumpkin Bites are gluten free and are great as a side dish or appetizer :)
Posted by Tracey | Comments 0


quick gluten free dinner
organic chicken marinated in honey & lemon & herbs
oven baked french fries
with a side of tomato and cucumber and basil salad
easy! takes 30 mins tops to make
Posted by Tracey | Comments 3

Gluten free turkey and cheese pizza
Using the Woolworth's FreeFrom Gluten Free pizza base mix, my favourite has become the turkey and cheese pizza. The pizza dough is ALSO yeast free - which is even better if you have specific allergies or intolerances to yeast.
Rationing it right, I can get 2 pizzas a week out of the ingredients I buy.
500g of turkey mince is plenty for 2 pizzas, I add extra cheese and a pinch of salt in the dough and in the sauce.
Delicious!
http://www.woolworths.com.au

Posted by Tracey | Comments 1

Gluten free cheesesticks
Using Woolworths FreeFrom pizza base mix, I've rolled my cheese pizzas, gave them a slick of tomato sauce and voila! Cheesesticks!
Try it yourself :)
Posted by Tracey | Comments 0

Trident Gluten Free
Trident have sent me a list of some of the gluten free products they offer -
Trident Sweet Chilli Sauce
Trident Vermicelli Noodles
Trident Coconut Cream
Trident Coconut Milk
Trident Curry Pastes
Trident Cup Noodles
Trident Thai Soups
Trident Rice Paper Rolls Kits
(not pictured right)
Posted by Tracey | Comments 0


Byron Bay Cookie Co - Gluten Free Cookies!
The wonderful Byron Bay Cookie Company make a range of delicious gluten free cookies - both in single cookie serves and packets of cookies.
I have a hard time choosing my favourite out of them all, but I love the Triple Choc that I've posted about before. Sticky Date and Ginger is a close second!
www.cookie.com.au
Gluten Free cookie details here
You can get the gluten free Byron Bay Cookie Co cookies at David Jones, About Life and some cafes & health food stores around Australia.
Posted by Tracey | Comments 0

Select Foods Gluten Free Muffins
I am sorry for not updating as regularly as before! Seems as though I've eaten all the gluten free food in Sydney, everything is naturally in my kitchen, belly or in this blog.
Anyway!
I finally got around to baking the Select Foods Gluten Free White Chocolate Muffins, from the mix I bought from the Expo a month or so ago.
Surprisingly, it didn't taste too much different to any other great tasting wheat-filled muffin. Mum didn't know the difference!
Posted by Tracey | Comments 0

Gluten Free products by Unilever
Unilever Australasia have kindly emailed me their list of gluten free products that they produce.
The list includes Bertolli di Qualita Superiore Pasta Sauces, Bertolli Five Brothers Pasta Sauces, Bushells Tea, Chicken Tonight Pasta Bake, Continental Packet Soup, Continental 2 Serve Sauce, Flora Spread, Lipton Herbal Infusions, Lipton Ice Tea - all gluten free!
Click here for the complete gluten free list.
Posted by Tracey | Comments 0

Nando's Gluten Free menu items
As listed on their website, here are the items that are gluten free at Nando's.
Flame grilled chicken
1/4 Chicken breast with skin
1/4 Chicken breast without skin
1/4 Chicken leg with skin
1/4 Chicken leg without skin
Grilled Tenderloins 4 pieces
Sides & Salads
Regular Spicy Rice
Corn on the Cob (contains dairy)
Fresh Garden Salad with dressing
Fresh Garden Salad without dressing
Chicken Garden Salad with dressing
Chicken Garden Salad without dressing
Chicken Mediterranean Salad with dressing (contains dairy)
Chicken Mediterranean Salad without dressing (contains dairy)
Locations across Australia
www.nandos.com.au
As always, please check with the staff if you're unsure!
Posted by Tracey | Comments 0

Sumo Salad
Sumo Salad have always been helpful to me when it comes to eating gluten free. They've been patient when I ask them about the food content and whether anything is totally wheat free.
You can even ask them to make a custom salad for you! I've yet to do that but I'm faithful to their chicken salad!
www.sumosalad.com
133 Liverpool Street, Sydney
Flight Centre House, Shop 3, 815 George Street Haymarket
Shop P41 (Pitt Street Mall)
MLC Foodcourt
Click here for more locations
Posted by Tracey | Comments 0

Gluten Free Gourmet lemon lime cupcake

My husband was more than happy to test run this cupcake out - lemon and lime, I think it is (he gobbled it up so quickly I didn't get a chance to note it down).
Happy Holidays everyone!
May your Christmas be gluten free :) I'll be reporting back with how my gluten free holiday dinner went in a few days.
Posted by Tracey | Comments 0

Mrs May's Pumpkin Crunch (wheat free)
I was on the hunt for a quick snack that was wheat free and delicious (and new to me!)
DVC in Castle Towers had a whole rack of Mrs Mays products and I dived right in!
The Pumpkin Crunch is tasty and a great nibbley snack - and is Wheat Free, Dairy Free with NO preservatives or additives (which is even better).
I'll need to go back and grab a few more bags for my handbag!
Mrs May's is an American company
www.mrsmays.com
I found my Mrs May's at -
DVC Discount Vitamin Centre
Level 4 (Opp. Uncle Pete's Toys)
Castle Towers
Castle St, Castle Hill NSW 2154
www.dvc.com.au
Posted by Tracey | Comments 2

Go Natural - gluten free snacks
I recently tried the Apricot & Coconut gluten free Go Bar, and it was excellent! Perfect for a gluten free snack on the go, I stuck it in my handbag and whipped it out when I got peckish.
I picked up my Go Natural products from Coles, health food aisle.
Full list of gluten free products here
Posted by Tracey | Comments 0

More gluten free dinners
1st photo - gluten free pasta, turkey mince with pasta sauce and a heart shaped piece of gluten free garlic bread
2nd photo - oven roasted organic chicken, marinated in lemon & herb spices, with oven baked french fries (gluten free) with a side of salad.
Posted by Tracey | Comments 0

Cadbury Gluten Free Products
GLUTEN FREE
Cadbury Assortments: Continental Mint Selection.
CONTINENTAL units: Caramel Mousse, Choc Orange Truffle, Truffle Delight, Caramel Chante, Caramel Deluxe, Crème De Menthe, Parisienne Crunch, Hazelnut Royale, Strawberry Fondant, Viennese Fudge
MILK TRAY units; Mud Cake, Praline Fanfare, Hazelnut Whirl, Cadbury Dairy Milk Whirl
FAVOURITES units; Flake, Cadbury Dairy Milk, Twirl, Dream
ROSES units; Hazlenut Whirl, Dairy Milk Whirl, Hazelnut praline Crisp.
Red Tulip Assortments: Chocolate Truffles.
Cadbury Bars: All Cadbury Dairly Milk, Dream, Flake, Twirl, Flake Noir, Chocolate Mousse, Fruit & Nut, Nut Break, Lite, Dream Hazelnut Truffle, Dream Snowflake.
Cadbury Blocks: Fruit & Nut, Swiss Chalet, Cadbury Dairy Milk, Dream, Nut Break, All Old Gold, Old Jamaica, Roast Almond, Top Deck, Brazil Nut, Cashew Nut, Hazelnut, Marble, Dream Hazelnut Truffle, Triple Decker.
Children's: All Yowie units, All Furry Friends units
FREDDO units; Cadbury Dairy Milk, Dream, Milky Top, Giant Freddo, Twin Freddo Cadbury Dairy Milk.
Seasonal: All plain Cadbury Dairy Milk Novelty Items ( Multi product packs will need to be assessed on an item by item basis).
Foods: Velvet, Dark Cooking Chocolate, Milk Cooking Chocolate, Bournville Cocoa.
Chupa Chups: All varieties except Cola flavour.
Other: Cadbury Dairy Milk Chocettes, Top Deck Chocettes
For a full list of what has gluten or not, please visit www.cadbury.com.au/sites/cadbury/index.php?pageId=35
As always, please read all labels before you try or buy any food.
Posted by Tracey | Comments 0

Eskal - Gluten Free Wafer Fingers
Really really good. ;)
I managed to finish off the whole packet in 24 hours, not unusual for me when it comes to great tasting biscuits.
I love that they come as finger sized wafers - perfect for icecream sundaes and a quick snack.
http://www.trialiafoods.com.au/htm_products_health.asp
Posted by Tracey | Comments 0

Cottee's Gluten Free Products
All Cadbury Schweppes products (including the following brands: Cottee's, Cadbury® Schweppes® Pascall®, Europe®, Red Tulip®) clearly identify the presence of all cereal products on the ingredients list on the product labels.
Cereals without Gluten
If cereal products do not contain any source of gluten then the source of the cereal (e.g. maize) is not listed.
Cadbury Schweppes may identify products which do contain a presence of cereal ingredients in the following ways:
Contains Gluten
This statement is present where the product contains wheat starch, wheat flour or wheat dextrin as the principal gluten source although other grains, such as oats or barley, may be present. Levels of gluten and gluten containing materials may vary significantly.
This is true for all products manufactured by Cadbury Schweppes in Australia or New Zealand.
Cereals with Trace Gluten below 10 ppm (parts per million)
This statement is present where the product contains less than 10 mg/kg (10 ppm) of gluten - (source is wheat glucose syrup or caramel colours where the level of gluten is below detectable levels).
http://www.cottees.com.au/index.php?menuID=26
CEREALS CONTAINING GLUTEN
Cottee's Lemon Barley Crush Cordial
Cottee's Thick & RichTM Choc Malt Flavoured Topping
CEREALS WITH TRACE GLUTEN BELOW 10ppm (Parts Per Million)
Cottee's Apricot Conserve
Cottee's Boysenberry Conserve
Cottee's Blackberry Conserve
Cottee's Blackcurrant Conserve
Cottee's Breakfast Marmalade
Cottee's Fruits of the Forest Conserve
Cottee's Ginger Marmalade
Cottee's Ginger Lime Marmalade
Cottee's Mandarin Orange Marmalade
Cottee's Plum Conserve
Cottee's Raspberry Conserve
Cottee's Strawberry Conserve
Cottee's Sweet Orange Marmalade
Cottee's Diet Breakfast Marmalade
Cottee's Thick & RichTM Caramel Flavoured Topping
Cottee's Caramel Flavoured Light Topping
Cottee's Maple Flavoured Syrup
Here is a complete list of allergens in their products
http://www.cottees.com.au/index.php?menuID=84
Posted by Tracey | Comments 0

Nudie Juice - Gluten free!
Good news! Nudie juices are fine to drink :) Smoothies have some dairy in them, if you're lactose intolerant also like me.
All the nudie drinks - both juices and smoothies, are all gluten free.
Posted by Tracey | Comments 0

SPC Baked Beans
Q. Are SPC Baked Beans gluten free?
A. Yes; all SPC products other than spaghetti are gluten free. For additional information, contact the Canned Food Information Service on 1800 033872 or alternatively on their web site as noted in the Other Relevant Web Sites section featured in this site.
Hoooray! I'm probably one of the few who loves baked beans, so this is welcomed news :)
http://www.spcardmona.com.au/brands/spc.php
Posted by Tracey | Comments 0

Naturally Good D'Lush Biscuits
D'Lush Double Choc Biscuits 150 g
* Wheat/gluten free
* Egg free
* No added fructose
* High fibre (Hi maize)
* No added salt
* Yeast free
* No preservatives or artificial colours
* GMO free
If I can get my hands on them, they don't last very long!
You can find them at Coles and Woolworths in the Health/Gluten Free aisle.
http://www.naturallygoodproducts.com.au/gluten-free-dlush-biscuits.shtml
Posted by Tracey | Comments 1

Masterfoods Gluten Free Products
Masterfoods have a list of gluten free products on their website.
Products include -
Dips - Salsas
Extra Mild Chunky
Medium Chunky
Medium Salsa
Mild Chunky
Mild Salsa
Finishing Sauces
Cracked Pepper Finishing Sauce
Roasted Garlic and Herbs Finishing Sauce
Wholegrain Mustard with Honey Finishing Sauce
Relishes - Squeeze
Squeezy BBQ
Squeezy Hot Dog
Squeezy Tomato
Sauces - Squeeze
Squeezy Chilli with Honey
Squeezy Hot Chilli
Squeezy Seafood
Squeezy Tartare
Squeezy Tomato Sauce
Squeezy Tomato Sauce Reduced Salt
Fantastic! :)
http://www.masterfoods.com.au/products/glutenfree.asp
Posted by Tracey | Comments 0

Hog's Breath Cafe Gluten Free
Hog's Breath Cafe has kindly provided me with a list of gluten free food we can enjoy at their restaurants.
- Soup of the day made without thickeners or only with arrowroot thickeners or pure corn flour
- Nachos
- Burgers - served in lettuce cups instead of bread, without Hickory BBQ sauce and curly fries
- Caesar Salad, no croutons, dressing has wheat that contain no detectable gluten
- Avocado Mushroom Salad - without blackened seasoning on potato chunks
- Calamari Balsamic Salad - with plain grilled calamari
- Chicken & Ranch Salad - with fresh grilled chicken only, without blackened
seasoning on potato chunks
- Safe Prime Rib Dishes: Natural, Avocado with Béarnaise, Garlic Mushroom
- Cajun Salmon - without blackened seasoning and croutons
- Chicken Dijonnaise - sauce contains wheat without detectable gluten
- Fresh Fish of the day - no blackened seasoning or flour
- Steaks, without Dianne, Pepper or Mushroom Sauce
- Pork Ribs, marinate is gluten free, Hickory sauce is not.
- Banana Split , without the wafer
- Ice cream, some toppings are gluten free. Please verify with the individual restaurant.
Please do not order - Hickory smoked BBQ sauce, Lime or Honey Sweet Chilli sauce, Blackened seasoning, curly fries. We offer baked potato or mashed potato on our menu.
Visit their website to find your nearest Hog's Breath Cafe restaurants.
Posted by Tracey | Comments 0

McDonalds Gluten Free
Gluten Free items as per their ingredients list -
Sauce, Ketchup
Sauce, Sweet Thai Chilli
Berrynice Yoghurt Crunch
Smoothie – Real Fruit
Salad - Garden Mixed (pictured)
Salad Dressing - Chilli & Lime
Salad Dressing - Italian
Salad Dressing - Spicy Avocado
Butter Portion
Honey Portion
Hotcake Syrup
Marmalade Portion
Peanut Butter Portion
Strawberry Jam Portion
Whipped Butter Portion
Black Coffee & Espresso Coffee
Flat White Coffee, Latte
Tea - Black

So basically if you need to eat something at McDonalds, stay away from everything except the Garden Mixed salad!
Posted by Tracey | Comments 1

Gluten free Pepsi products
From the Gatorade website -
I'm gluten intolerant, can I still drink Gatorade?
All Gatorade products (liquid and powder formulations) are gluten free and are therefore suitable for gluten-sensitive individuals with Coeliac Disease. The dextrose we use in these products is sourced from Maize.
Also for your information Pepsi products (diet and regular), including Pepsi Max, Mountain Dew and 7UP are gluten free. The caramel colour used is derived from glucose or sucrose syrup; not from wheat or a source of gluten.
Posted by Tracey | Comments 0

Easy Thins - Gluten Free Rice Cakes
Posted by Tracey | Comments 0

New Freedom Foods Gluten Free Wraps
This just in from Freedom Foods!
We would like to let you know that the Freedom Foods Gluten Free Wraps are now available in the bakery section of Woolworths supermarkets in NSW, QLD, VIC and WA. They will also be available in TAS & SA within the next 1-2 weeks.
"WRAPS THAT ACTUALLY WRAP"

Freedom Foods Gluten Free Wraps are great for lunches with your favourite sandwich filling, excellent with dips & sauces or served with stir-fries. Our Wraps also make great pizza bases. Freedom Foods Gluten Free Wraps are also free from yeast, soy, nuts, are
suitable for vegans and do not contain any artificial colours and flavours.
Posted by Tracey | Comments 0

Gluten Free Gourmet Expo 2006 review
I've never been to any sort of Gluten Free show or class or expo, so you can imagine the level of excitment leading up to the Gluten Free Gourmet Expo!
I arrived bright and early, just after 9am, to avoid the crowds I'd heard about from previous Expo's. Walking up to Exhibition Hall 3, there weren't many people there yet which was suprising but later on I was grateful to beat the rush! On the way in, they handed out blue bags filled with some freebies and some information on coaelic disease.
I'm usually great at taking photographs, but excuse the poor quality in these shots. I blame the rush of gluten free food choices! Here are some of the exhibitors this year -
Sydian Natural Food Products www.syndian.com.au The dips were yummy!




LEDA Nutrition
www.ledanutrition.com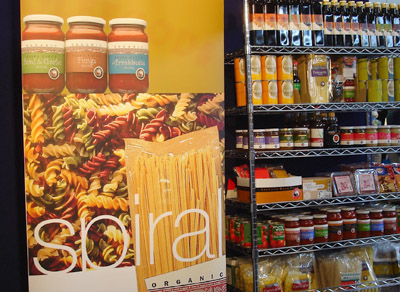 Spiral Foods
www.spiralfoods.com.au




Gourmet Treats From Heaven
www.cookiesandbiscuits.com
I adore the chocolate brownies and raspberry mirror muffins. It's like I never went gluten free!




Jen's Homemade Cookies




Orgran
www.orgran.com
I love their pastas - I stocked them in bulk ;)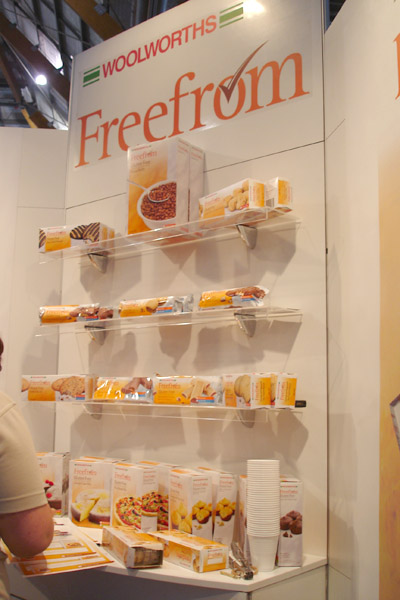 Woolworths FreeFrom range
www.woolworths.com.au
I'm pretty much addicted to their Gluten Free, Yeast Free Pizza base mix. It is different from regular pizza bases, but I love it still.




Pizzeria Perfecto




Artisse Organic




Gluten Free Bakery
www.glutenfreebakery.net
Gluten free lamingtons & chocolate eclairs that were too good to resist.




O'Brien Gluten Free Beer
www.gfbeer.com.au
I'm never going to be a drinker, but this stall sure was busy busy busy!




Shepherd's Bakehouse
www.shepherdsbakehouse.com.au (site underconstruction)




Mototo
www.mototodairyfree.com
I was a bit hesistant at first, but since it was dairy free, soy free and gluten free I figured it couldn't hurt me too much. VERY yummy, the vanilla icecream was the best.




Marci's Gourmet
www.marcisgourmet.com




Oasis Group
www.oasisgroup.com.au
Organic Gluten Free Pasta




Funky Fudge
www.funkyfudge.com.au
I bought the Vanilla Choc Fudge.. yummo.




Fantastic Snack's
www.fantasticsnacks.com.au




Bakeliners
www.bakeliners.com.au
Toasty Bags! They allow you to toast your bread in a toaster without the hassle of cross contamination. Great idea!




Naturally Good
www.naturallygoodproducts.com.au
Gluten Free Products for Coeliac Disease, Food Allergies, Food Intolerance. I love their cookies, but hadn't tried the rest of the range. They have a choc pudding mix out now.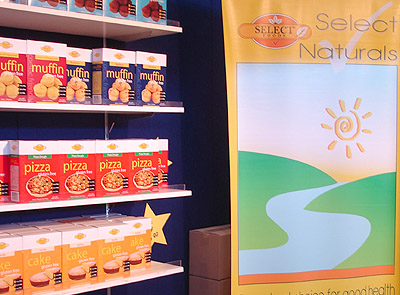 Select Foods
www.selectfoods.com.au
I hadn't heard of them before, so I bought one of their pizza base mixes and a muffin mix. Can't wait to try it!




Freedom Foods
www.freedomfoods.com.au
They had the biggest stall in the show - and rightly so. It looks like they've expanded their range of food (and they already had a big range!). Gluten free crumbed fish and Gluten free crumbed chicken! Aswell as heat-and-serve pizza's.
Gluten Free Gourmet www.glutenfreegourmet.com.au I'm already a big fan of their Vanilla Yo Yo's and now I had my chance to sample a few other products in their range. Pretty good so far!


And last, but not least ...


Thomas Chipman Corn Chips
www.chipman.com.au
If you've been a regular reader, you might know that I love these chips and buy them regularly. It was great to meet the owner, and also pick up a Thomas Chipman canvas bag!


I didn't manage to take a photo - but I also loved Nicholson Fine Food's Australian Bush Lemon mousse, and the Basco range of biscuits. Sue Shepard was on hand to sign her cookbook "Irresistibles For The Irritable" for me, can't wait to try all the recipes out.

All in all, a great expo and a cool way to spend the morning browsing through so many new and excitings things to eat. I'm encouraged to see so many new gluten free and yeast free products out and about - it certainly helps to know that healthy and fun food is still around.

On the way out, the crowd more than tripled in size - and I'm sure next year will be even bigger and better.

Product reviews on all the gluten free food I picked up to follow!

Posted by Tracey | Comments 3

Gluten Free Gourmet Expo 2006
Full review soon!
I had a great morning at the Expo today, and as you can see I picked up a few things. My favourites - Thomas Chipman, Gourmet Treats from Heaven and Gluten Free Gourmet - were there, so it was fantastic to put a face to the food I've enjoyed so far. Some new ones thrown in there for good measure. Really great to see so many people enjoying food :)
Posted by Tracey | Comments 1

Gluten Free Double Choc Biscuits
Another great product from Woolworths' 'Free From' range - Gluten Free Double Choc Biscuits.
Again, really tasty like the Gluten Free Choc Coated Biscuits and my husband couldn't get enough of them either and they were gone within 24 hours. If they keep this up, Woolworths will see me every week from now on!
Woolworths Freecall - 1800 103 515 for more info.
Posted by Tracey | Comments 0

Rowie's Cakes
I'd been hanging out to try a few more of Rowie's Cakes - and the chance came up when I realised the Grower's Market in Pyrmont was coming up. (Check out Grab Your Fork for great reviews on the entire market).
The stall was one of maybe 2 that offered gluten free, wheat free, yeast free specialities - the other being various jams, chutneys and spreads which I'll get to later on.
While I was there early (around 8am), I had missed out on 1 of the 4 types of cakes there - but I did snag 1 of each of the rest.
Raspberry Layer Cake, Wicked Chocolate Paneggforte, Creamy Soy Coconut Chocolate ganache were the 3 I took back with me for morning tea. I missed out on the Potato Flour Feather Cakes, which is a good excuse to go back next time for more!
The Good Living Growers' Market
Location Pyrmont Bay Park opposite Star City Casino
Date First Saturday of Every Month
Time 7am - 11am
More Info - Sydney Morning Herald Events
Posted by Tracey | Comments 0

Raspberry parfait
As seen on Queer Eye (episode 124), Ted teaches Mark how to make Raspberry parfait for his gluten-intolerant wife Cindy.
How cool to see more tv cooks get into gluten free recipes :D It's just a shame that I can't eat the cream. Let me know if you try this one yourself!
Raspberry parfait
Ingredients
1 cup fresh or frozen, unsweetened, unthawed raspberries
1/2 cup sugar
1/4 cup water
1 cup heavy or whipping cream
Zest of one lemon (just the yellow part of the rind, grated)
Instructions
Combine the raspberries, 1/4 cup of sugar and the water in a heavy saucepan. Bring to a boil over medium-high heat, stirring constantly until boiling. Boil until the mixture is reduced by half, stirring occasionally, about 8 minutes. Transfer to a bowl and put in the refrigerator to cool.
Beat cream and remaining 1/4 cup of sugar in a bowl with a mixer on the highest speed until it holds stiff peaks.
Assemble the layers of cream and raspberries in a tall parfait glass, separating each layer with a thin layer of zest.
Garnish with more raspberries if desired.
Posted by Tracey | Comments 0

Flourless Carrot Cake
I wanted to make a carrot cake this weekend, so when I found this Flourless Carrot Cake recipe, I got to it.
Relatively easy to make, coming out of the oven it smelt devine :D Frosted with cream cheese (and icing sugar etc.) my flourless cake was done within the hour. Yum yum.
Posted by Tracey | Comments 1

Gluten Free Cookies
I recently put in an order at Gluten Free Favourites so I could finally get some more quinoa (couldn't find it as usual at Coles), so I thought it would be a good opportunity to taste some of the gluten free cookies I haven't tried yet.
The Vanilla Yo-yo by Gluten Free Gourmet is $2 at the store, and worth every cent!
The cookie is vanillary (is that a word?) without being too creamy, and buttery without being overpowering. It actually TASTES like a cookie should, instead of tasting like cardboard.
The best part? If you twist it into 2 parts, there's more to enjoy. Yum yum! Perfect with a cup of tea and nothing else (you'll be too busy enjoying the cookie itself, lol).
Gluten Free Gourmet's Vanilla Yo Yo is available around Victoria, and of course, Gluten Free Favourites.
My second cookie in my order was the amazing Triple chocolate fudge cookie by the Byron Bay Cookie Company.
Now I know that the Vanilla Yo-yo was hard to beat - but the triple chocolate gave it a run for it's money! Again, at only $2 it's a bargain for a special treat.
As soon as I opened the packet I could smell the rich chocolately goodness and it didn't disappoint :D There were chunks of dark and white chocolate dotted in the big cookie that made my husband and I praise the chocolate heavens above. Finally, a decent gluten free chocolate cookie that everyone can enjoy!!
My Triple chocolate fudge cookie was bought from Gluten Free Favourites.
Posted by Tracey | Comments 0

Woolworths Freefrom range
I don't shop at Woolies alot, so when I came across the 'Freefrom' range of biscuits in the health food aisle I had to try it out for myself.
I couldn't pick from the selection - so this week it's 'Freefrom Gluten Free Choc Coated Biscuits' which are wheat free. One packet was around $3.50 for 12 cookies inside.
Surprisingly, like most gluten free cookies I've had, they're really amazing and addictive. I'll definately be trying the other flavours available.
Woolworths Freecall - 1800 103 515 for more info.
(I can't find an official webpage on the range, but Woolworths have some Allergies & Intolerances info up.)
Posted by Tracey | Comments 0

Thomas Chipman Corn Chips
I didn't realise these were Australian - finally a fantastic gluten free chip to enjoy :D I was skeptical on whether it would taste like a corn chip (or end up tasting like cardboard), but they were really tasty - even Regan ate a whole bunch of them (before I devoured the whole packet).
From their website - We are proud to confirm that all Thomas Chipman corn chips are certified gluten free by Coeliac Society of Australia. They are Australia's only certified gluten free corn chips.
Thomas Chipman Corn Chips
www.chipman.com.au
They'll be at the Gluten Free Gourmet Expo! And you can buy them online at Gluten Free Favourites Australia or in person at Macro Wholefoods, IGA or Woolworths
Posted by Tracey | Comments 2

Naturally Good Cookies
These are my FAVOURITE cookies ever - the peanut crunch cookies from Naturally Good.
Gluten free, yeast free, dairy and egg free - and highly addictive! They're about $3-4 a packet, which is a bargain considering the value of a decent gluten free cookie. Found in some Bi-lo and Coles supermarkets, About Life (Balmain), Health Zone and other selected stores. Or you can buy them online at Gluten Free Favourites Australia.
www.naturallygoodproducts.com.au
Posted by Tracey | Comments 0

Copperpot Pesto
Another gluten free find!
Australian company Copperpot have a great range of dips - including the Basil Pesto one I've been eating practically every day on toast or in my pasta.
Copperpot's complete range of dips is gluten free and the company sponsors the various Coeliac Societies nationally.
All cheese based dips substantiate the Dairy Good symbol, as does the pâté range. The non-cheese based dips are suitable for vegetarians, contain no gluten and no artificial colours or flavours.
Found in the fridge section with the dips and cheeses, in Coles, Woolworths, Bi-lo and Franklins.
Posted by Tracey | Comments 0

Roberto's Cakes and Party Food
I've always driven past Roberto's on Victoria Rd, but never gone in. That was, until I saw their 'GLUTEN FREE CAKES' sign out the front!
It's a tiny store, but with a variety of different gluten free food - cakes, cupcakes, slices, curries, pastries and even mini pizza's.
The owner is gluten free himself, so you're sure care is taken with the food they offer :)
Roberto's Cakes & Party Food
Specialising in gluten free cakes
76 Victoria Road, Rozelle 2039
Ph 9555 1053
www.robertoscakes.com
Posted by Tracey | Comments 0

meal suggestions
i'm pretty lazy when it comes to cooking, so thankfully there are a few good things that i can whip up quickly without spending hours in the kitchen.
last night's dinner was curried brown rice with vegetables and this morning, simple spelt pancakes with strawberries, apple and a drizzle of honey!
Posted by Tracey | Comments 0

Tropical Source Chocolate by Sunspire
Great tasting chocolate - definately something I would eat again! But unfortunately, I shouldn't of had any - being on a cocoa-free diet. I was trying to introduce chocolate back into my diet but I didn't react very well to it.
Still, I'd recommend it to anyone who loves a nice, gluten free, dairy free, dark chocolate. Just never tell me how nice it is and how 'just a little' will be fine, lol

Tropical Source Raspberry Dark Chocolate Bar
Ingredients - Evaporated cane juice, unsweetened chocolate, cocoa butter, freeze dried raspberries, roasted soy flour, soy lecithin (emulsifier), pure vanilla extract. Made in a plant that processes peanuts and tree nuts.
Posted by Tracey | Comments 2

Gluten Free Gourmet Expo
Mark this down on your calendar!!
Friday 29 and Saturday 30 September 2006
Sydney Showground Olympic Park
The Expo will be open to the public from 4pm to 9pm on Friday 29 September and 9am to 5pm on Saturday 30 September.
According to the Clever website, it's FREE to enter! How great is that?? You can bet i'll be there buying up the place.
NSW Coeliac Society
Clever Event Company
Posted by Tracey | Comments 0

Orgran Pasta
Another great product from Orgran - their corn and rice pasta!
I don't have a photo for it yet, but surprisingly it was not a big change from regular pasta.
Posted by Tracey | Comments 0

Orgran Cookies
Orgran have a great line of cookies to try. My first was the Orgran Sultana & Cinnamon Cookies

Wheat Free, Gluten Free, Dairy Free, Lactose Free, Casein Free, Egg Free, Yeast Free, No added cane sugar, and 98% Fat Free!
Not bad, definately will try their other cookies.
Posted by Tracey | Comments 0

R&R Bakery
Found the website of the company who makes those great gluten free pizza bases!
Which also means I found the ingredients so I can post them up :
R&R Pizza Base
RICE FLOUR, POTATO FLOUR, CANOLA OIL, SOY FLOUR, FILTERED WATER, RAISING AGENT (336, 500), RICE BRAN, VEGETABLE GUM (464), SEA SALT.
Posted by Tracey | Comments 0

Gluten Free Pizza at home
Finally got around to finding a pizza base with no wheat flour or yeast. The only one that was at About Life, without yeast or wheat flour, is the pizza base by R&R Friendly Bakery.
It's not bad - my husband didn't like that it tasted like potato (because of the potato flour) but I wouldn't say no to it again.
I added an organic pizza sauce, mushroom and avocado.

Posted by Tracey | Comments 4

Healtheries
Lucky for me - these are found in my local Coles! The great thing is, is that they taste great, just like the 'real' thing.
Posted by Tracey

Gourmet Treats From Heaven
FANTASTIC cakes - and gluten free!
It took me a while to track them down, but now I've tried the raspberry muffin and the carrot cakes. Yum. My favourite is the muffin though, the carrot cake was too crumbly for my liking (but I wouldn't say no if offered!)
Posted by Tracey

spelt flour pancakes
ingredients
1/2 cup of organic white spelt flour
1/2 cup of water
1 egg
directions
1. Mix the egg & water together
2. Add in the spelt flour and mix well
3. Heat a skillet/frypan
4. Use half the mixture for 1 crepe & cook both sides (flip it over!)
5. Serve as a sweet pancake, or add in goat's cheese & some salad for something different
Posted by Tracey

quinoa
I've only recently discovered Quinoa and I think I'm going to be hooked on it! It's very easy to prepare and has alot of protein and calcium which we all need.
ingredients
1/4 cup quinoa
1/2 cup of water
half a green apple
directions
To prepare, you need to rinse the quinoa (like you would rice) and then pop it into the rice cooker with 1.5 times the amount of water. Add in slices of green apple when it's done, drizzle with honey if you like.
It should be ready within 20 mins!
Yum!
You can buy Organic quinoa grain from Gluten Free Favourites Australia.
Posted by Tracey

vege salad
A quick and simple meal anyone can enjoy!
ingredients
A bit of cucumber
A small carrot
A handful of canelli beans
A handful of shreded lettuce
A small tomato
A few small mushrooms
A few slices of avocado
directions
Pretty much straight forward so no big directions needed.
Chop up each vegetable roughly and mix together in a small bowl.
Enjoy!
Posted by Tracey

fried rice
ingredients
White rice, already cooked
2 eggs
1/2 cup of peas and corn
a bit of carrot, chopped up
a bit of cucumber, chopped up
salt
pepper
a bit of cucumber, chopped up
directions
1. Warm up the skillet
2. Once the skillet is warmed up, add in rice and stir around until broken up.
3. Break the eggs into the middle of the rice.
4. Give it 10-15 seconds and start to stir the eggs a bit. You want the eggs scrambled, but not mixed in with the rice.
5. Add a little bit of salt and pepper.
6. Add in peas and corn and carrot.
7. Keep stirring the mixture until the eggs are cooked and the rice is warmed up.
8. Turn off skillet just as egg is cooked.
9. Serve!
Posted by Tracey

vege egg scramble
Ingredients
2 or 3 eggs
1/4 of a tomato, chopped up
a few little mushrooms, chopped up
1 avocado
a bit of cucumber, chopped up
a bit of carrot, chopped up
directions
1. Break your eggs into an already heated skillet
2. Wait 10-15 seconds, or until it starts to cook.
3. Keep stirring the eggs to scramble them.
4. Take eggs out of the skillet just before they are completely cooked (you want it to be a bit fluffy and soft still).
5. Place eggs onto a plate.
6. Put chopped up tomato, mushrooms, cucumber and carrot on top. (All raw).
7. Add a few slithers of avocado ontop.
8. Add a bit of tomato sauce on top if you want.
9. Serve!
Posted by Tracey

baked beans & eggs
Ingredients
1 can of Heinz Baked Beans
2 eggs
2 rice crackers
directions
Too simple, so directions won't be needed.

Scramble your eggs if you like, add a bit of salt & pepper for taste. Heat up the beans in the microwave. Break a couple of rice crackers for texture!
Posted by Tracey

flourless chocolate cake
ingredients
1 cup of unsalted butter
1/2 cup of bittersweet chocolate
3 eggs
1/2 cup of unsweetened cocoa
3/4 cup of sugar
directions
1. Preheat oven to 150 degrees celsius.
2. Butter the cake pan or muffin tin.
3. Coarsely chop the chocolate and melt with butter in a double boiler over simmering water, stirring occasionally to blend.
4. Remove from heat and let cool.
5. Meanwhile, in a large bowl, beat the eggs at medium speed until thick, about 1 minute.
6. At low speed, beat in sifted cocoa and then the sugar to partially blend.
7. Scrape down sides of bowl with a rubber spatula.
8. Beat mixture at high speed until thick, about 1 minute.
9. Add the melted chocolate and beat at medium speed until blended.
10. Scoop 1/3 cup batter into each muffin cup or pour into cake pan.
11. Place muffin tin on jelly roll pan in the center of oven.
12. Pour enough hot water into the pan to reach 1/2 inch up the sides of muffin cups. (This is not necessary for cake pan.)
13. Bake for 20 minutes or until done.
Posted by Tracey

flourless peanut butter cookies
ingredients
1 cup of peanut butter
1 cup of sugar
1 egg, beaten
1 tsp. vanilla
directions
1. Mix peanut butter and sugar until fluffy.
2. Add eggs, stir in vanilla.
3. Mix well.
4. Roll in 3/4 inch balls.
5. Use fork to flatten.
6. Bake on ungreased cookie sheet for 10 minutes at 180 degrees celcius.
7. Cool on baking sheets.
Posted by Tracey

peanut butter carob fudge
ingredients
2 cups of carob buds
1/2 cup of honey
2 cups of peanut butter
directions
1. In the microwave, melt the carob buds and honey (be careful not to burn it!)
2. When carob buds are melted, remove from stove and add the peanut butter.
3. Stir well until blended.
4. Pour into greased tin (rectangular in shape).
5. Refrigerate until set and then cut into squares.
6. Serve and enjoy!
Keep finished fudge in the fridge.
Posted by Tracey